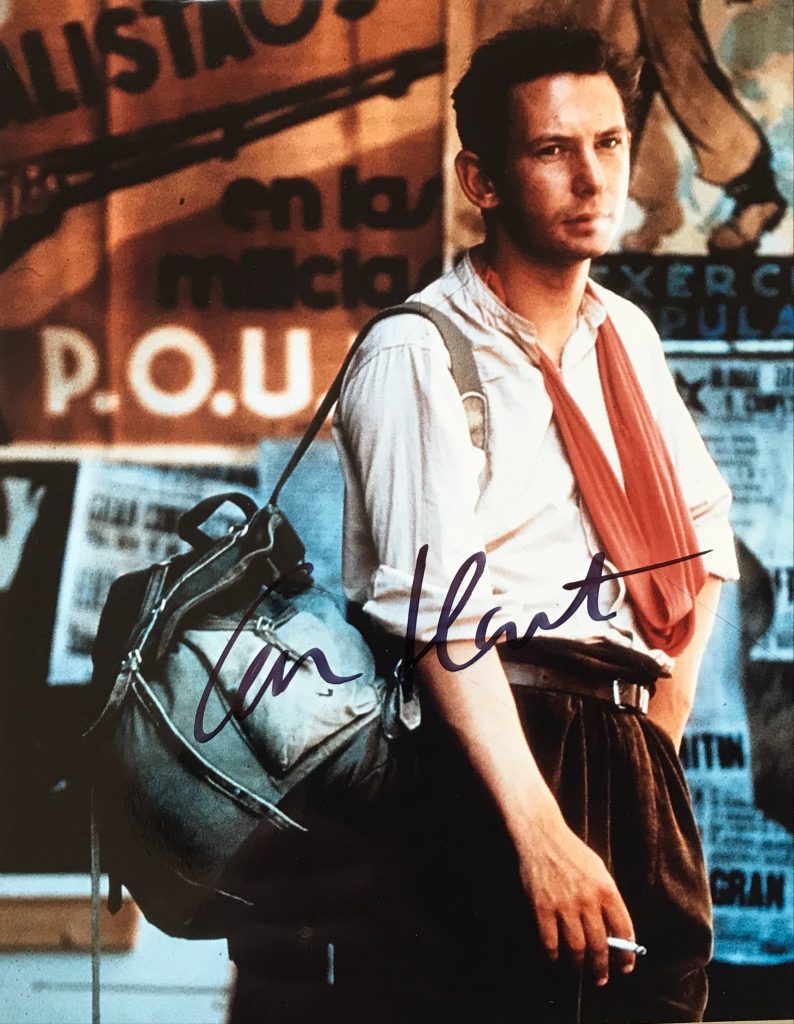 Ian Hart (Wikipedia)
Ian Hart is an English stage, television and film actor best known for playing Quirinus Quirrell in the 2001 fantasy film Harry Potter and the Philosopher's Stone, as well as portraying Joe O'Reilly in Michael Collins.
Hart was born Ian Davies in Knotty Ash, a district of Liverpool, Lancashire, one of three siblings, and was brought up in a Roman Catholic family. He attended the Cardinal Heenan Catholic High School and was in his teens a member of the Everyman Youth Theatre before studying drama at the now-defunct Mabel Fletcher College of Music and Drama in Liverpool. He then moved on and started acting in 1980.
He studied video production at South Mersey College (now part of Liverpool Community College). He portrayed a POUMmilitia volunteer in the Spanish Civil War in Land and Freedom (1995), an unemployed Liverpool shipyard worker in Liam (2000). His best known role, however, is that of Professor Quirrell in Harry Potter and the Philosopher's Stone (2001). He also provided the voice of the CGI-generated face of Lord Voldemort.
Hart has played John Lennon in three productions – as a 22-year-old Lennon a few months prior to the late 1963 British Invasion in The Hours and Times (1991), a slightly younger Lennon during The Beatles' 1960-62 Hamburg period in Backbeat (1994), and a 50-year-old Lennon (having avoided his true fate at age 40) in the Playhouse Presents television production Snodgrass (2013).
Hart played Sir Arthur Conan Doyle in the film Finding Neverland in 2004, having already played Doyle's creation Dr. Watson in a BBC Onetelevision film of The Hound of the Baskervilles in 2002, and reprising the role in 2004 in Sherlock Holmes and the Case of the Silk Stocking, with a different actor playing Sherlock Holmes. He also played schizophrenic paparazzo Don Konkey in the FX series Dirt in 2007 and 2008. In 2009 he played Tom Ripley in BBC Radio Four's adaptations of all five of Patricia Highsmith's "Ripliad" series.
Hart had an interesting audience interaction during the Duke of York's Theatre's 2009 production of Andrew Bovell's play Speaking in Tongues. After the performance on 23 November, Hart went into the audience and remonstrated with a man whom he had earlier told to "shut up" from the stage. He also played Adolf Hitler in the BBC one-off drama The Man Who Crossed Hitler,[3] which aired in August 2011. He is also starring in The Last Kingdom on Netflix as Father Beocca. which aired 10 October 2015.
Hart and his wife Lynne have two daughters.