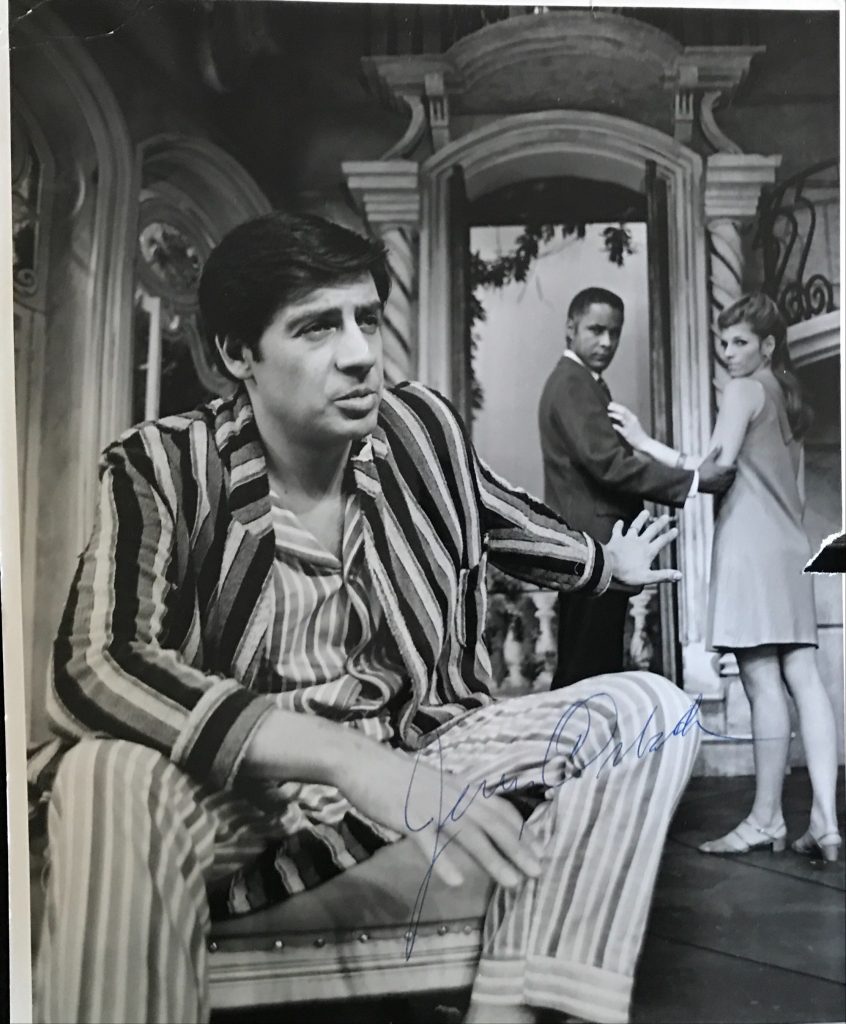 Jerry Orbach obituary in "The Guardian" in 2004.
Those who only remember the actor Jerry Orbach, who has died of cancer aged 69, through his tough portrayals on screen, especially his role of the sardonic, wisecracking veteran Detective Lennie Briscoe in the television series Law & Order, may find it difficult to imagine him as a song-and-dance man in Broadway musicals for three decades.
But there was already something of Lennie Briscoe in the hard-bitten characters he created on Broadway such as silver-tongued shyster lawyer Billy Flynn in Chicago and the domineering, indefatigable producer Julian Marsh in 42nd Street. Lanky, with a rough, deep voice, slicked back dark hair over a hangdog face, he was not typical of the stars of the Broadway musical.
Orbach was born in the Bronx, the son of a vaudevillian and a radio singer. After the University of Illinois and Northwestern University, he returned to New York to study acting at the Herbert Berghof Drama School, and with Lee Strasberg. Among his jobs then was chauffeuring Mae West. Advertisement
Orbach made his New York debut in Bertolt Brecht and Kurt Weill's The Threepenny Opera in 1957, taking over the role of the Streetsinger and then Macheath. In 1960, he landed the dual role of the Narrator and the bandit El Gallo in the off-Broadway musical The Fantasticks (it ran until 2002), in which he introduced the show's hit song, Try To Remember.
Orbach's first role on Broadway was in Carnival (1961) as Paul Berthalet, the embittered, lame puppeteer who expresses his love for Lili (Anna Maria Alberghetti) through the puppets he manipulates, poignantly singing Her Face. The Bob Merrill musical was adapted from the 1953 film Lili, and Orbach was to make a splash in three further stage musicals based on movies.
He won a Tony award for his stylish comic performance as Chuck Baxter in Promises, Promises (played by Jack Lemon in the Billy Wilder film The Apartment), in which he sang the Burt Bacharach song I'll Never Fall In Love Again and the title song. The show opened in December 1968 for a three-year run.
In 1975, as Billy Flynn in Chicago (derived from the 1942 film Roxie Hart), he stopped the show with John Kander and Fred Ebb's All I Care About Is Love and Razzle Dazzle. Orbach had another huge success in 42nd Street (1980), delivering the celebrated lines to the aspiring actress: "You're going out there a youngster, but you've got to come back a star!" and singing the title song. It was to be Orbach's last musical, although it was he that provided the Maurice Chevalier-like voice for Lumiere, the candelabra, singing Be Our Guest in Walt Disney's Beauty And The Beast (1989).
Orbach's film career began as a street gang leader in Cop Hater (1958), the first filming of one of Ed McBain's 87th Precinct novels, a hoodlum in Mad Dog Coll (1961), and the lead in the misfired mafia comedy The Gang That Couldn't Shoot Straight (1971). Impressed with Orbach's performance, mobster Joseph "Crazy Joe" Gallo called up the actor. They became friends, and Orbach was with Gallo a few hours before he was gunned down.
Orbach's cop role in Sidney Lumet's powerful drama of New York police corruption, Prince Of The City (1981), foreshadowed his Law & Order character, as did his playing another policeman in Ridley Scott's Someone To Watch Over Me (1987). He had slightly different roles in Dirty Dancing (1987), as Jennifer Grey's disapproving father, and in Woody Allen's Crimes And Misdemeanors (1989) he is creepily convincing as a man with mafia connections, who arranges to get rid of his brother's troublesome mistress with one phone call.
In 1992, Orbach was offered a lead role in Law & Order to replace Paul Sorvino. He stayed for 12 seasons, defining a quintessential TV detective. As critic Paige Newman commented: "He didn't feel the need to dominate every scene; he just slyly stole them, with the perfect quip and perpetually raised eyebrows. He kept the show grounded in the reality that we imagine real cops go through."
Orbach remarked that the cop series brought him "wonderful security". He said he did not know "where I stop and Lennie starts. I know he's tougher than me and he carries a gun. And I'm not an alcoholic – I know I wouldn't want to be him. I guess that's where I stop and he starts."
· Orbach is survived by Elaine, his wife since 1979, and two sons from his first marriage.
Illtyd Harrington writes: Jerry Orbach so blended into New York's West Side that you could easily pass him by as he strolled down 7th Avenue. I spent some time with him in the mid-1970s and enjoyed his range of friends, acquaintances and colleagues. Once we attended a soirée to promote a democratic hopeful from Oklahoma for the presidency. Jerry shelled out.
As all actors do he absorbed or stole personalities but he continued to learn. He was intrigued by a meeting I had had with Brecht's widow Helen Weigel and other members of the Berliner Ensemble. However, my most vivid memory of him was in a late-night drinks club on West 42nd Street. He never claimed to be tired after a show. He asked me what I wanted. I knew it was a tall order, but I surprised him by saying I'd love to hear him sing his first hit Try To Remember. He did. His professional colleagues stopped chattering and were as beguiled as I was by his innate charm.
· Jerry Orbach actor, born October 20 1935; died December 28 2004