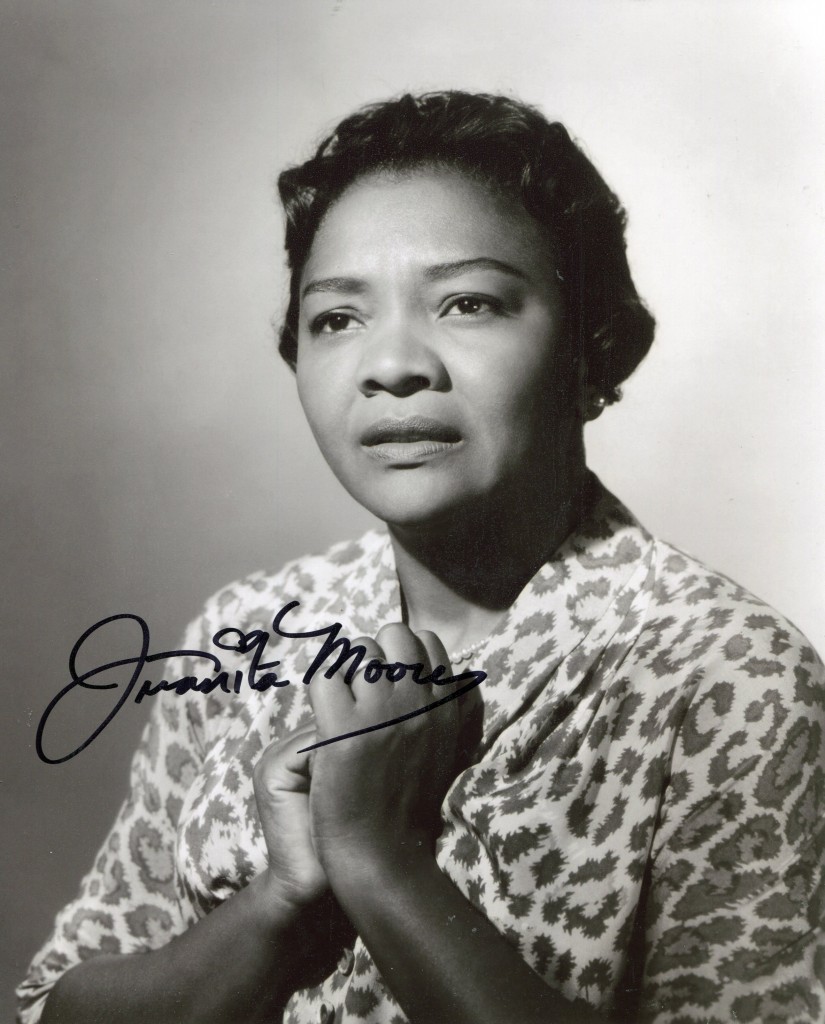 Juanita Moore obituary in "The Guardian" in 2014
From its earliest days, Hollywood, which has always lagged behind wider social advances, limited the roles of black actors to stock, wide-eyed cowards, simpletons or servants, often referred to as "uncles" and "mammies". Juanita Moore, who has died aged 99, suffered from this limitation by having to play maids throughout most of her long career. However, Moore could have echoed what Hattie McDaniel, the first African-American actor to win an Academy Award, once said: "Why should I complain about making $700 a week playing a maid? If I didn't, I'd be making $7 a week being one."
Where McDaniel as Mammy, Scarlett O'Hara's lovable, sassy servant in Gone With the Wind (1939) was the apotheosis of the black maid, Moore's Oscar-nominated portrayal of Annie Johnson, housekeeper to the glamorous Broadway star Lora Meredith (Lana Turner) in Douglas Sirk's Imitation of Life (1959), was the most substantial, progressive and sympathetic version.
Moore was only the fourth black Oscar nominee, male or female, in the 20 years since McDaniel's victory. Although Hollywood was part of an ideological superstructure, still projecting a largely conservative, white, middle-class view of the world, the superior melodrama Imitation of Life dared to deal with racism. Despite rigidly knowing their places, Annie and Lora are close friends, each having trouble with their daughters. Annie's light-skinned daughter, Sarah Jane (Susan Kohner), rejects her mother in an attempt to pass as a white woman. Moore commented: "My husband's mother was Caucasian and so I was living that kind of thing with my husband prior to Imitation of Life: one family black, one family white."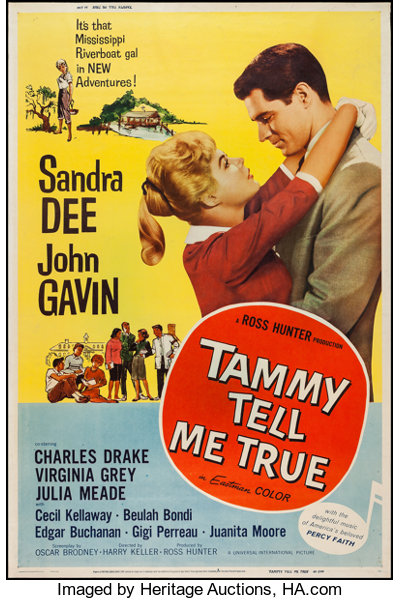 Moore brings great warmth, charm and sensitivity to the part of the saintly, self-sacrificing Annie. "I think my part was the greatest dramatic role ever given to an actress of my race and I was determined to do it justice," she remarked. Unforgettable is the scene in which she painfully stands by as Sarah Jane, working in a nightclub, introduces her mother to her white colleagues as her old nanny. On her deathbed, Annie forgives her errant daughter. "Tell her I know I was selfish – and if I loved her too much, I'm sorry – but I didn't mean to cause her any trouble. She was all I had."
Moore remembered that Sirk was patient with her: "There were times I was so nervous the muscles were jumping in my face. One day I cried all day long, yet he didn't fire me. During my dying scene, Sirk said: 'Juanita, you got to remember you are dying not crying.'"
She was grateful for the role of her life. "They auditioned a lot of people before casting me in the part," she recalled. "Pearl Bailey was their first choice. But producer Ross Hunter really wanted me. I have been in a lot of pictures. However, most of them consisted of my opening doors for white people."
Born in Los Angeles, Moore started her career in her teens, dancing at the Cotton Club in Harlem, New York. She then returned to LA, where she got jobs as a movie extra, and was seen as a chorus girl in the Sharp as a Tack number in Star Spangled Rhythm (1942), Paramount's all-star variety show, and in the all-black-cast musical Cabin in the Sky (1943). Gradually, Moore began to get a few small speaking parts, such as a nurse in Elia Kazan's Pinky (1949), a precursor of Imitation of Life.
At the same time, Moore was a member of the Ebony Showcase theatre, Los Angeles, founded by Nick and Edna Stewart, which provided a venue for black performers to play the types of roles they were denied elsewhere.
In films, it was back to stereotypes, tending to shift between the African jungle and the boudoir: a native girl in Tarzan and the Jungle Queen (1951); maid to a southern belle played by Virginia Mayo in The Iron Mistress (1952). In Affair in Trinidad (1952), Moore had a key role – though way down the credits – as Rita Hayworth's intuitive maid, Dominique, who says: "It is the prerogative of a faithful and loyal servant to be impertinent." In slight contrast, she was a patient in a psychiatric hospital to which Barbara Stanwyck has been committed in Witness to Murder (1954) and a convict called Polyclinic Jones – "named after the hospital where she was born" – in Women's Prison (1955), first seen scrubbing floors and singing Swing Low Sweet Chariot.
Unfortunately, after her triumph in Imitation of Life, Moore's film and television roles were only marginally bigger and better. "I think I made less money after that, to tell you the truth, because I thought I was going to make more money with better parts and things like that but found myself right back making minimum." She was the sweet Sister Mary in The Singing Nun (1966) and a feisty mother in Up Tight (1968), Jules Dassin's transposition of Liam O'Flaherty's The Informer from Dublin to a black ghetto of Cleveland, Ohio. On television, she appeared in several episodes of The Alfred Hitchcock Hour (1963-65), among other series.
Moore gained more satisfaction from her stage role as the strong and devoted matriarch Mama Lena in Lorraine Hansberry's A Raisin in the Sun, which ran at the Adelphi theatre in London in 1959. On Broadway, she played Sister Boxer in James Baldwin's The Amen Corner (1965).
In the 70s, Moore profited somewhat from the wave of blaxploitation movies, mostly in long-suffering maternal roles. In The Mack (1973), Moore played the mother of a pimp (Max Julien) whom she expects to lead a respectable life. The following year, she was in Thomasine and Bushrod, based on Bonnie and Clyde; and Abby, based on The Exorcist – and was also inducted into the Black Filmmakers Hall of Fame.
She continued to appear in films and television until 2001, her last movie role being the wise grandmother in the time-travel film The Kid (2000).
Moore's husband predeceased her.
• Juanita Moore, actor, born 19 October 1914; died 1 January 2014