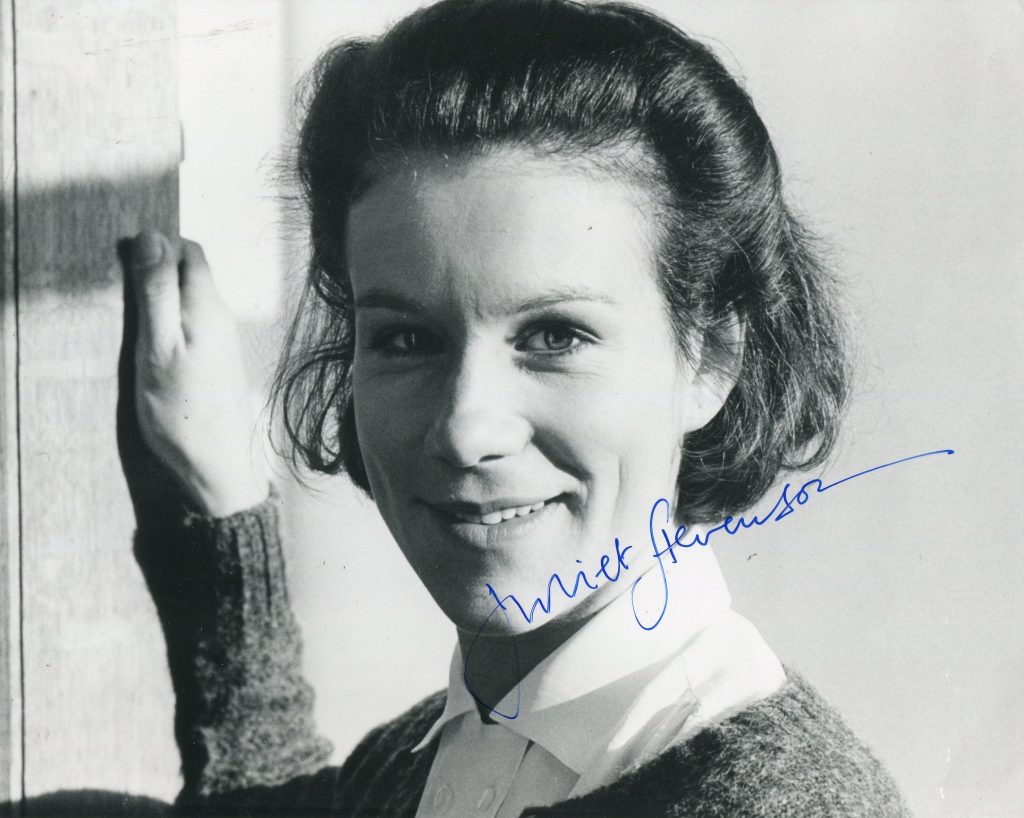 Juliet Stevenson (Wikipedia)
Juliet Stevenson was born in 1956 and is an English actress of stage and screen. She is known for her role in the film Truly, Madly, Deeply (1991), for which she was nominated for the BAFTA Award for Best Actress in a Leading Role. Her other film appearances include Emma (1996), Bend It Like Beckham (2002), Mona Lisa Smile (2003), Being Julia (2004), and Infamous (2006).
Stevenson has starred in numerous Royal Shakespeare Company and National Theatreproductions, including Olivier Award nominated roles in Measure for Measure (1984), Les Liaisons Dangereuses (1986), and Yerma (1987). For her role as Paulina in Death and the Maiden (1991–92), she won the 1992 Olivier Award for Best Actress. Her fifth Olivier nomination was for her work in the 2009 revival of Duet for One. She has also received three nominations for the BAFTA TV Award for Best Actress: for A Doll's House(1992), The Politician's Wife (1995) and Accused (2010). Other stage roles include The Heretic (2011) and Happy Days (2014).
Stevenson was born in Kelvedon, Essex, England, the daughter of Virginia Ruth (née Marshall), a teacher, and Michael Guy Stevenson, an army officer. Stevenson's father was assigned a new posting every two and a half years. When Stevenson was nine, she attended Berkshire's Hurst Lodge School, and she was later educated at the independent St Catherine's School in Bramley, near Guildford in Surrey, and at the Royal Academy of Dramatic Art (RADA). Sevenson was part of the 'new wave' of actors to emerge from the Academy. Others included Jonathan Pryce, Bruce Payne, Alan Rickman, Anton Lesser, Kenneth Branagh, Imelda Staunton and Fiona Shaw. This led to a stage career starting in 1978 with the Royal Shakespeare Company.
Although she has gained fame through her television and film work, and has often undertaken roles for BBC Radio, she is known as a stage actress. Significant stage roles include her performances as Isabella in Measure for Measure, Madame de Tourvel in Les Liaisons Dangereuses, as Anna in the UK premiere of Burn This in 1990, and as Paulina in Death and the Maiden at the Royal Court theatre and the West End (1991–92). For the latter, she was awarded the 1992 Laurence Olivier Award for Best Actress.
In the 1987 TV film Life Story, Stevenson played the part of scientist Rosalind Franklin, for which she won a Cable Ace award. She played the leading role in the Anthony Minghella film Truly, Madly, Deeply (1991) and her roles in The Secret Rapture (1993), Emma(1996), Bend It Like Beckham (2002) and Mona Lisa Smile (2003). She has more recently starred in Pierrepoint (2006), Infamous (2006) as Diana Vreeland and Breaking and Entering (2006) as Rosemary, the therapist. In 2003, she played the mother of an autistic child in the television film Hear the Silence, a film based on the now debunked claims of Andrew Wakefield that the MMR vaccine was responsible for autism.[7] The film and Stevenson were criticised for "trying to influence parents against MMR and dressing up science as entertainment."
In 2009, she starred in ITV's A Place of Execution. The role won her the Best Actress Dagger at the 2009 Crime Thriller Awards.[8] She performs as a book reader, and has recorded all of Jane Austen's novels as unabridged audiobooks, as well as a number of other novels, such as Lady Windermere's Fan, Hedda Gabler, Stories from Shakespeare, and To the Lighthouse. She received lifetime achievement prize at Women In Film And TV awards.
Stevenson lives with anthropologist Hugh Brody, her partner since 1993. The couple live in Highgate, North London. They have two children, both born in Camden, London: Rosalind Hannah Brody (born 1994) and Gabriel Jonathan Brody (born late 2000/early 2001).
In 2008 she campaigned on behalf of refugee women with a reading of 'Motherland' at the Young Vic. She is patron of the UK registered charity LAM Action, which provides support, information and encouragement to patients with Lymphangioleiomyomatosis(LAM) and their families, and raises funds to advance research into LAM.
On 12 September 2016 Stevenson, as well as Cate Blanchett, Chiwetel Ejiofor, Peter Capaldi, Douglas Booth, Neil Gaiman, Keira Knightley, Jesse Eisenberg, Kit Harington and Stanley Tucci, featured in a video from the United Nations' refugee agency UNHCR to help raise awareness of the global refugee crisis. The video, titled "What They Took With Them", has the actors reading a poem, written by Jenifer Toksvig and inspired by primary accounts of refugees, and is part of UNHCR's #WithRefugees campaign, which also includes a petition to governments to expand asylum to provide further shelter, integrating job opportunities and education.