Leslie Phillips (Wikipedia)
Leslie Phillips was born in Tottenham, Middlesex, England, the son of Cecelia Margaret (née Newlove) and Frederick Samuel Phillips,[2] who worked at Glover and Main, manufacturers of cookers in Edmonton; the "filthy, sulphurous" air of the factory gave Frederick a weak heart and edema, leading to his death at the age of 44. In 1931, the family moved to Chingford, Essex, where Phillips attended Larkswood Primary School.[3]
It was his mother who decided that Phillips should be sent to the Italia Conti Academyto receive elocution lessons to lose his cockney accent. At that time a strong regional accent was a major impediment to an aspiring actor. It proved to be an astute move and was a major factor in his subsequent success.
Phillips made his stage debut at the age of ten in Peter Pan alongside Anna Neagle at the London Palladium.
Phillips made his first film appearances as a child in the 1930s. He is the only actor still alive who performed at Pinewood Studios in its first week of opening in 1936. He also understudied for Binkie Beaumont and H. M. Tennent in the West End. In 1938, 14-year-old Leslie Phillips appeared with Graeme Muir in the West End play Dear Octopus where Muir was the juvenile lead. During the Second World War shows were frequently interrupted by air-raid sirens and Phillips recalls in his autobiography that "audiences would evaporate and head for cellars or Underground stations". At 16, Phillips played an uncredited market street urchin in 1940's The Thief of Bagdad.
Called up to the Army in 1942 Phillips rose to the rank of Lance-Bombardier in the Royal Artillery. Due to his acquired upper class accent, Phillips was selected for officer training at Catterick and duly commissioned as a Second Lieutenant in the Royal Artillery in 1943.[5] In his autobiography he would recall that his anti-aircraft battery destroyed numerous German V1 flying bombs launched against the UK during the period. He was transferred to the Durham Light Infantry in 1944 but was later declared unfit for service just before D-Day after being diagnosed with a neurological condition that caused partial paralysis.[5] He was initially sent to a psychiatric hospital in error but was then sent to the correct facility for treatment.
Demobbed as a lieutenant in December 1944, Phillips' acting career initially took in "the murkiest rat-infested old playhouses and music halls in the North of England". It was during the 1950s that he became known for playing amusing English stereotypes, including the 1955 TV series Robin Hood starring Richard Greene. His first lead role in a television serial was in the 1952 sitcom My Wife Jacqueline.[9] His seductive voice is his trademark as well as his catchphrases, "I say, Ding Dong" (originally the catchphrase of Phillips' character Jack Bell in Carry On Nurse), "Hello" and "Lumme!", which were partly, if not wholly, based on those of fellow cad actor Terry Thomas.
His big break in the films was in the Gene Kelly musical Les Girls in 1957.[5] Although the film was a critical success he decided against a move to Hollywood, in part as he considered himself primarily a theatre actor.[7] Soon after he appeared in three of the early Carry Onfilms; Carry On Nurse and Carry On Teacher (both 1959) and Carry On Constable (1960), which cemented his reputation for playing upper class fools and lecherous smoothies.[5] After Constable he told producer Peter Rogers that he did not wish to do any more Carry Ons, though he did return for Carry On Columbus in 1992. This made him, with June Whitfield, the longest-serving Carry On cast members. In the 1960s he took over from Dirk Bogarde in several of the 'Doctor' film comedies.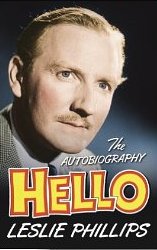 Between 1959 and 1977 Phillips became familiar on radio, as Sub-Lieutenant Phillips in the comedy The Navy Lark alongside Jon Pertweeand Ronnie Barker.[10]
After his marriage to Angela Scoular in 1982, Phillips decided to move away from playing the kind of lecherous twits with suave chat-up lines which had characterised much of his previous work. Phillips has remained busy in both stage and television productions, along with character roles in films such as Empire of the Sun (1987) directed by Steven Spielberg and Lara Croft: Tomb Raider (2001). Phillips also provided the voice for the Sorting Hat in the Harry Potter films appearing in Harry Potter and the Philosopher's Stone (2001) and Harry Potter and the Chamber of Secrets (2002) as well as reprising his role in the final film, Harry Potter and the Deathly Hallows Part 2 (2011). He has also appeared in British television sitcoms including Honey for Tea with Felicity Kendal and appeared in cameo roles in popular series such as The Bill.
In 2006, he appeared in Hanif Kureishi's film Venus alongside Peter O'Toole and was nominated for a BAFTA for Best Supporting Actor in 2007 for his role as the veteran actor, Ian.[
Phillips' autobiography, Hello (ISBN 0-7528-8178-7), was published by Orion in 2006.
He was appointed Officer of the Order of the British Empire (OBE) in the 1998 Birthday Honours and was promoted to Commander of the Order of the British Empire (CBE) in the 2008 New Year Honours.
Phillips, in conjunction with Jules Williams and Back Door Productions, co-produced the Sky Arts series Living The Life[13] which ran for three series.