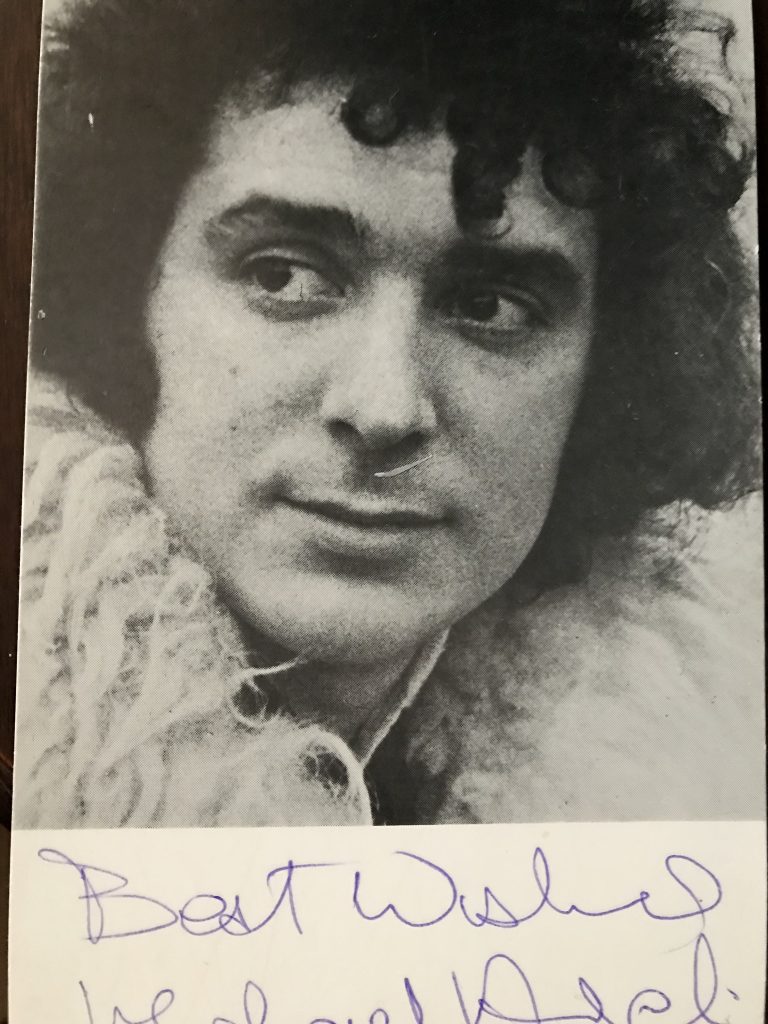 Michael Angelis (Wikipedia)
Michael Angelis was born in 1952 and is an English actor. He is best known as the former narrator of the British children's television series Thomas and Friends from 1991 to 2012, as well as several other products and media related to the franchise.
Michael trained at the College of Dramatic Art, Royal Scottish Academy of Music and Drama, Glasgow, where, inter alia, he played roles in Brendan Behan's The Hostage and The Zykovs by Maxim Gorky. He was featured in Boys from the Black Stuff (1982) and G.B.H..
Michael appeared in comedies such as The Liver Birds (1975–78) and Luv (1993–94) and films such as A Nightingale Sang in Berkeley Square (1979) and No Surrender (1985). In 1983, he appeared at the Manchester Royal Exchange in Harold Pinter's 'The Caretaker'. He was a villain in the revived television series Auf Wiedersehen, Pet (2002), alongside former fellow Black Stuff star Alan Igbon. He narrated the British language version of Thomas & Friends from 1991 to 2012.
He narrated John Peel's autobiography, Margrave of the Marshes, which was broadcast on BBC Radio 4 in 2005. In 2006, he starred in Fated, a film set in Liverpool, as well as in episodes of Midsomer Murders and The Bill in 2007. In September 2011, he participated in the BBC Radio 4 programme The Reunion talking with others cast members about his roles in the Boys from the Blackstuff.
Michael was married to the Coronation Street actress Helen Worth, but the couple divorced in 2001. Michael married his second wife Welsh model Jennifer Thomas Khalastchi in 2001.
He is the younger brother of fellow actor Paul Angelis
Guardian obituary in May 2020.
The actor Michael Angelis, who has died of a heart attack aged 68, had already enjoyed some fame in sitcom before he brought heartbreak and pathos to the powerful 1980s television drama Boys from the Blackstuff, where comedy – borne out of resilience – was overshadowed by tragedy. He played Chrissie, one of five Liverpudlian former tarmac layers struggling for survival as their city faces depression in the wake of Margaret Thatcher's economic policies.
The hard-hitting series put the Liverpool writer Alan Bleasdale firmly on the map after he previously featured the characters in his 1980 TV play The Black Stuff. It began with Angelis literally in the driving seat as Chrissie and his friends – accompanied by his pet goose – set off in a van for work in Middlesbrough. At the time, there were fewer than one million unemployed, but Bleasdale foresaw what was happening in the country.
As the figure headed towards three million and more, he wrote Boys from the Blackstuff, broadcast in 1982, as five plays observing the experiences of each character. While Bernard Hill, as Yosser Hughes, made "Gizza job!" a catchphrase for many of those out of work as the drama burned into the national psyche, Chrissie was seen as the most down-to-earth of the gang, but demonstrated how his dignity was being destroyed as he struggled to put food on the family table.
In an intensely raw scene at the end of his story, when he has his gas cut off and finds himself being investigated by department of employment officials, there appears to be a truce in the rows he has with his wife (played by Julie Walters) as he tells her: "Angie, this is our life – and I wish I was dead… I had a job, Angie. It wasn't a bad job and I was good at it. I laid the roads – motorways, lay-bys, country lanes. But I lost that job."
After reflecting on 11 years of marriage, Angie finds her anger overspills as she remonstrates: "I've had enough of that 'if you don't laugh, you'll cry'. Why don't you cry? Why don't you scream? Why don't you fight back, you bastards? Fight back!" Chrissie cracks, walks outside and slaughters his geese, with the blood spraying over their pet rabbit. "We'd better wash the blood off that rabbit," he tells Angie as the couple embrace in painful resignation.
To a younger generation, Angelis's distinctive lyrical voice was heard as the narrator of 14 series (from 1992 to 2012) of the popular animation Thomas the Tank Engine & Friends (later retitled Thomas & Friends) after taking over from the former Beatles drummer and fellow Liverpudlian Ringo Starr. The series was launched in 1984 by the producer Britt Allcroft, who saw the potential in turning the Rev Wilbert Awdry's Railway Series of books, and those of his son Christopher, into a children's TV programme. She felt that young viewers should hear a single voice, the narrator, to give an impression of the books being read to them (although later on other actors were involved) and hired Starr.
Although the programmes finished after two series, they were revived in 1992 and Angelis started his run as the longest-running narrator of the animated production with a story about Percy and Henry arguing over scarves. He continued until Mark Moraghan took over in 2013.
Michael was born in London to Margaret (nee McCulla) and Evangelos Angelis, a Greek immigrant, and brought up in the Dingle area of Liverpool. He trained at the Royal Scottish Academy of Music and Drama, Glasgow, and acted with repertory theatre companies in England and Scotland, notably the Liverpool Everyman.
His first significant television role came in the writer Carla Lane's flatmates sitcom The Liver Birds, set in the city. When, for the fifth series in 1975, Sandra, played by Nerys Hughes, was joined by Elizabeth Estensen as the loud and gaudy Carol, Angelis played her brother, Lucien, an obsessive rabbit lover. "It's me rabbits!" even became a popular catchphrase in school playgrounds.
The sitcom finished in 1979 but, for a short-lived revival in 1996, he returned as Lucien – who was then the brother of Beryl (Polly James), brought back with Hughes to reunite the comedy's most popular female duo, who had appeared together from 1971 to 1974.