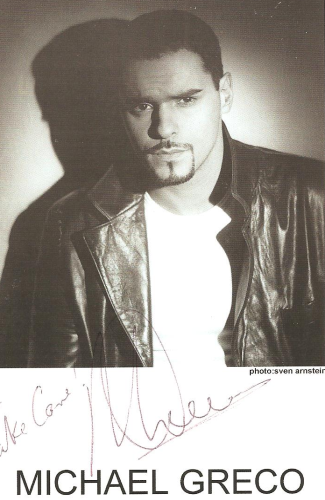 Michael Greco (Wikipedia)
Michael Greco is a British actor and poker player. He is best known for his role as Beppe Di Marco in the BBCsoap opera EastEnders, which he played for four years between 1998 and 2002.
Greco was educated in Surrey, England at St. Bede's School in Redhill and afterwards at Reigate College where his acting talent was noticed and gained him admission into the Guildford School of Acting. It was here he gained his acting diploma in 1992.
Greco played Beppe di Marco in EastEnders from 1998 to 2002. He also played Billy Flynn in the London West End's Chicago.
In July 2004 Greco was voted the sexiest male soap star ever by readers of the Radio Times and he was ranked number 66 in the 100 Greatest "EastEnders" (1985) Characters of All Time for his performance as Beppe di Marco (2010).
Greco now lives in Los Angeles and has recently appeared alongside Kevin Costner in the three-part film Hatfields & McCoys.
Greco is best known his role as Beppe di Marco in the British soap opera EastEnders, from 1998 to 2002.
In summer 2006 he finished filming the leading role in the independent feature film Naked in London, opposite another ex-EastEnder Jake Maskall.
Greco starred in a modernised pop musical version of Aladdin, as the villain "Abanazar", at Poole's Lighthouse Theatre during the 2007 Christmas and New Year Season.
Greco appeared in Celebrity Love Island in 2005. He was a contestant on ITV's Soapstar Superstar in January 2006, and played in the Rest of the World team versus England in the Soccer Aid match in 2006.
Greco was the voiceover person on the TV documentary show America's Hardest Bounty Hunters, on the Australian pay-TV Crime and Investigation channel (FOXTEL).
Greco is a keen poker player (he was mentored by "Mad" Marty Wilson). He started off playing ring games, but now concentrates on poker tournaments. He has commented that his skills as a trained actor have enabled him to give false tells that he learned from Mike Caro's Book of Poker Tells.
He went on to appear in the 2005 Poker Million, World Speed Poker Open and Monte Carlo Millions, as well as for Team Italy in the PartyPoker.com Football & Poker Legends Cup.
Greco made the Grand Final of the 2006 Showbiz Poker event. He finished second when his K♦ Q♦ made two pair on the 8♦ Q♥ K♠ flop, but the 4♥ 10♣ that followed allowed Norman Pace to complete his straight from his A♦ J♣ hole cards. He also finished second to Pace in the semi-final round and in the celebrity heat of the PartyPoker.com World Open.