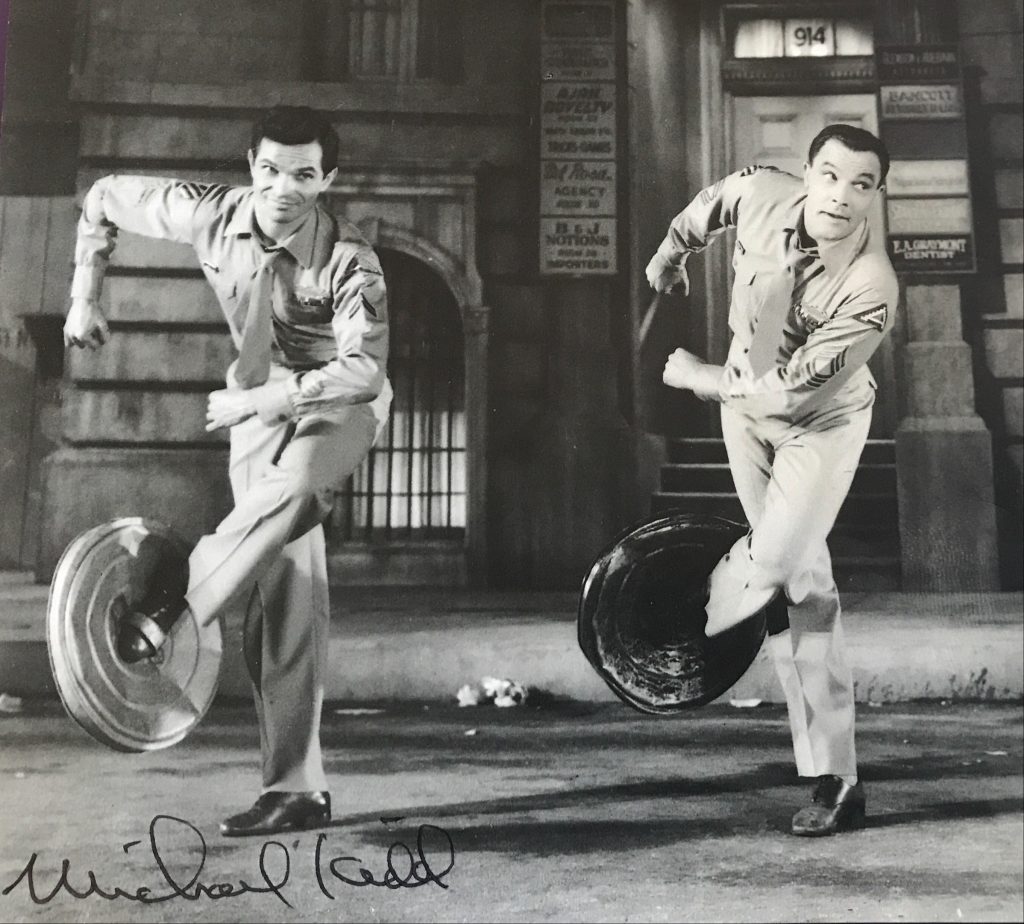 Michael Kidd obituary from "The Telegraph" in 2007.
Michael Kidd the choreographer who died on December 23 aged 92, was a stalwart of the heyday of Broadway and Hollywood musicals, and his dances were performed by Fred Astaire, Gene Kelly, Danny Kaye and Marlon Brando among others.
His athletic, vernacular style turned everyday gestures into ebullient dance, and with a witty and observant eye for period and place, he could invoke Toulouse-Lautrec's Paris, the backwoods of Middle America or New York pulp fiction with equal success.
His most famous choreography was for the film Seven Brides For Seven Brothers, in which the great barn-raising dance remains one of the immortal dance sequences on film.

He initially turned down the approach by director Stanley Donen, as he recalled later: "Here are these slobs living off in the woods, they have no schooling, they are uncouth, there's manure on the floor, the cows come in and out – and they're gonna get up and dance? We'd be laughed out of the theatre!"
Kidd's solution was to hire four leading ballet dancers to play some of the seven brothers, and to exploit lumberjacks' daily activities as dance material.
The result, with the men cartwheeling on planks and brandishing woodaxes, and an ingenious use of invisible wires and multiple editing, had a combustible machismo that put paid to any idea of dance not being manly. Ballet-trained and of Russian extraction, Kidd used both sources to enrich his comedy, and won five Tony Awards and several more nominations for both choreography and stage direction.
Slight and unassuming in physique, he moved with deceptive rapidity.
When a dancer in one musical complained that she could not dance his steps in high heels, he strapped her shoes on to his small feet and demonstrated the steps perfectly.
Born Milton Greenwald in New York on August 12 1915 to Abraham Greenwald, a Russian immigrant barber, and his wife Lillian, Michael Kidd was useful on the track at school, and took modern dance lessons as a hobby. Becoming bored by his degree studies in Chemical Engineering he took up a dance scholarship to the School of American Ballet aged 21. His athleticism and sunny character won him a job with the touring Ballet Caravan, where he starred in Eugene Loring's Billy the Kid (1936) and met his first wife.
After a year with Loring's Dance Players, Kidd joined New York's new Ballet Theater as a soloist, possessing what the critic Edwin Denby noted as "verve and a sinister elasticity".
He danced in the opening cast for Antony Tudor's Dim Lustre (1943), and Jerome Robbins created featured roles for him in Interplay (1945) and Fancy Free (1946), as a footloose sailor.
Michael Kidd drew on Charlie Chaplin's style to create his own ballet in 1945, On Stage!, about a janitor (himself) who helps a shy young girl through a dance audition. Under its lowbrow sentimentality critics noted a promising gift for vigorous physical entertainment, but it was to be Kidd's only ballet before he left for the more exuberant world of Broadway musical theatre.
There his energy and sense of humour made him a much sought-after choreographer. Finian's Rainbow (1947), a whimsy about a giant leprechaun, won him his first Tony Award, followed by a second for the harder-edged Guys and Dolls (1951), later filmed in 1955 with Frank Sinatra and Marlon Brando, the latter of whom he taught to dance in such notable numbers as the crap game in the sewer (Luck Be a Lady Tonight).
Warner Studios invited him to Hollywood to choreograph Where's Charley? (a version of Charley's Aunt for the rubber-bodied Ray Bolger).
In 1953 he was simultaneously employed choreographing in Hollywood for Fred Astaire and Cyd Charisse in the flawless hit The Band Wagon and on Broadway for Cole Porter's Paris musical Can-Can, the success of which was largely put down to the atmosphere of Kidd's dance numbers.
Hard on the heels of his triumph with Seven Brides For Seven Brothers the next year, Michael Kidd amusingly satirised his ballet roots in Danny Kaye's film Knock on Wood, in which a ventriloquist hides from gangsters in a Russian ballet company.
Kidd played his only film part as a performer alongside Gene Kelly and Dan Dailey in the 1955 musical It's Always Fair Weather, a dubious follow-up to On The Town.
Although the ageing Kelly removed one of Kidd's solos out of jealousy, according to Hollywood lore, Kidd's sequence for the three soldiers dancing with bin lids on their feet became the film's signature dance.
Michael Kidd then directed Danny Kaye for MGM in the whimsical 1958 circus film Merry Andrew, but Hollywood musicals were petering out and he turned back to Broadway, winning Tony Awards for Li'l Abner (1956, and filmed in 1959) and Destry Rides Again (1959).
He worked on Wildcat with Lucille Ball (1960) and Breakfast at Tiffany's, the 1966 flop. He was also nominated for Tony Awards for Subways Are for Sleeping (1961), Skyscraper (1965), The Rothschilds (1970) and The Goodbye Girl (1993).
He revisited Hollywood with mixed success to choreograph Star! for Julie Andrews as Gertrude Lawrence (1968) and Hello Dolly! for Barbra Streisand (1969), which was directed by his old friend Gene Kelly.
For television he created Baryshnikov in Hollywood (1982) and recently contributed to Janet Jackson's pop videos When I Think of You and All Right. In 1997 Hollywood awarded him a special Oscar for lifetime achievement.
Michael Kidd married two dancers, Mary Heater (marriage dissolved) and then Shelah Hackett, with each of whom he had two children. His wife and his children survive him.