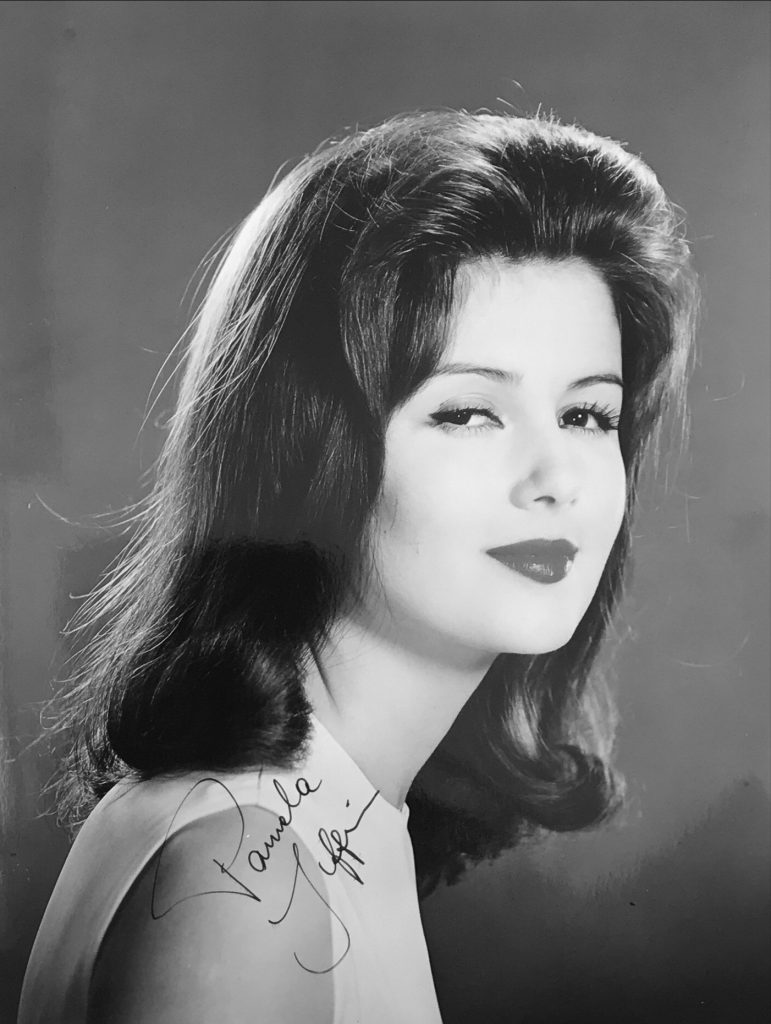 Pamela Tiffin (Wikipedia)
Pamela Tiffin was born in Oklahoma City of Russian and British ancestry,[1] but grew up in Chicago, where she achieved success as a teen model. She attended Hunter Collegeand appeared in a short Music of Williamsburg (1960).
Tiffin was holidaying in Hollywood when she visited the Paramount lot. She was spotted by producer Hal Wallis who had her screen tested. This led to her being cast in a film version of the play Summer and Smoke (1961) by playwright Tennessee Williams.
Tiffin then played the daughter of screen legend James Cagney's boss in the comedy One, Two, Three (1961), directed by Billy Wilder who called her "the biggest find since Audrey Hepburn". She won a Golden Globe nomination for this film as well as for Summer and Smoke.
20th Century Fox gave her the leading role in the musical State Fair (1962), a remake of an earlier film, where she was romanced by Bobby Darin and directed by Jose Ferrer. She was one of the three leads in MGM's comedy Come Fly with Me (1963).
Tiffin studied at Columbia and continued to model. She guest starred on The Fugitiveand filmed a pilot for Fox, Three in Manhattan, that was not picked up.
Tiffin made two films with James Darren, both aimed at teen audiences: For Those Who Think Young (1964) and The Lively Set (1964). Fox put her in another remake, The Pleasure Seekers (1964), a new version of Three Coins in the Fountain.
She co-starred with Burt Lancaster in the 1965 western The Hallelujah Trail and went to Italy where she appeared in a segment of Kiss the Other Sheik (1965) with Marcello Mastroianni. She returned to make the private-detective film Harper (1966) with Paul Newman. She then performed in Dinner at Eight on Broadway.
Tiffin in 1971 on the set of Italian giallo movie The Fifth Cord
In 1967 Tiffin decided to move to Italy "to find out what I want". She appeared in The Almost Perfect Crime (1966) with Philippe Leroy; The Protagonists (1968); Torture Me But Kill Me with Kisses (1968), a hugely popular comedy; and The Archangel (1969) with Vittorio Gassman.[10][2]
The February 1969 issue of Playboy did a photo feature entitled "A Toast to Tiffin".
She made her first American film in two years when she played a liberal college student and the love interest to Peter Ustinov in the comedy Viva Max! (1969). She performed Uncle Vanya on stage and was in an episode of The Survivors.
Tiffin returned to Italy to appear in Cose di Cosa Nostra (1971), No One Will Notice You're Naked (1971), Evil Fingers (1971), E se per caso una mattina… (1972), Deaf Smith & Johnny Ears (1973), Kill Me, My Love! (1973) with Farley Granger, La signora è stata violentata (1973), and Brigitte, Laura, Ursula, Monica, Raquel, Litz, Florinda, Barbara, Claudia, e Sofia le chiamo tutte… anima mia (1974). She returned to Hollywood briefly to appear in the TV movie The Last of the Powerseekers (1971).
She appeared as herself in a 2003 documentary, Abel Ferrara: Not Guilty, opposite her daughter Echo Danon.
Pamela Tiffin has been married twice. Her first marriage was to Clay Felker, the late American magazine editor, whom she married in 1962 and divorced in 1969. Her second marriage is to Edmondo Danon, a philosopher, who is a son of the Italian movie producer Marcello Danon. They married in 1974 and have two daughters, Echo and Aurora.
Pamela Tiffin died in 2020
The Times obituary in 2020:
Pamela Tiffin obituary
Sixties model and actress who was hailed as 'the greatest film discovery since Audrey Hepburn'
Saturday December 26 2020, 12.01am GMT, The Times
Pamela Tiffin was a successful 18-year-old model with no ambitions to be an actress when she and her mother took what would be a life-changing trip to Los Angeles.
"I was in Hollywood on a holiday and went to Paramount like any other tourist to see how films were made," she later recalled. She was chatting with a friend over lunch in the studio's canteen when she was spotted by the producer Hal B Wallis, who was casting his latest project, a movie version of the Tennessee Williams play Summer and Smoke. "The next thing I knew I was in a cast with Laurence Harvey, Geraldine Page and Rita Moreno," Tiffin said. She impressed critics with her performance as the young woman who steals Harvey away from Page. Variety magazine's review said: "Pamela Tiffin adds a pro flair to dazzling youthful beauty."
Around the same time as she agreed to appear in Summer and Smoke (1961), a photograph of her in a petticoat advert caught the eye of the General Artists talent agency boss, Martin Baum, who then made sure he got her on his books. A second film part materialised almost immediately, in Billy Wilder's rollicking Cold War comedy One, Two, Three (1961), starring James Cagney. Tiffin was memorable in her role as the wilful young American who stumbles from one near-international incident to the next, much to the chagrin of the official (Cagney) employed by her father to keep her out of trouble. Her breathy voice, wide-eyed sex appeal and comedic talent suggested she could be a natural successor to Marilyn Monroe.
Pamela Tiffin Wonso was born in 1942 in Oklahoma City and grew up in the Chicago suburbs. Her father, Stanley Wonso, was an architect and her mother, Grace (née Tiffin), a housewife. Aged 11, she asked her mother to help her get into modelling. "I was a pretty child and I reckoned I could earn some pocket money while I was still at school," she explained in a 1963 interview.
Throughout her teenage school years she worked as a model and was often featured on the Chicago Tribune's fashion pages. Aged 16, she moved to New York with her mother and, at the time of her fateful trip to Hollywood, was enjoying a varied modelling career, working with influential photographers such as Bert Stern and Horst P Horst. She regularly appeared in the pages of Vogue, though as she wryly noted at the time: "Vogue is for prestige; Sears is for pay." At night, she continued her studies at Hunter College.
With the release of One, Two, Three, she attracted attention around the world. Wilder sang her praises to the press, telling New York's Daily News that she was "the greatest film discovery since Audrey Hepburn" and enthusing about her "camera smartness", which was undoubtedly a legacy of her modelling career.
José Ferrer, who directed her in the 1962 remake of the musical State Fair, was similarly impressed. "She has to be seen to be believed," he told journalists. Two years later she starred in the romcom The Pleasure Seekers (1964), about three young women and their love affairs in Madrid.
Tiffin with Robert Wagner in Harper (1966)
She was 19 when she got married for the first time, to the magazine editor Clay Felker, whom she had met when she went to the Esquire office to ask for a copy of a photo it had run of her. Her reluctance to take on roles that would keep her away from her marital home in New York for long prompted one producer to say: "I don't know whether she means it or not. But I tell you, it's one heck of a tantalising line. Junior Garbo stuff."
Although she took lessons with the renowned acting guru Stella Adler, she had a take-it-or-leave-it approach to her Hollywood career, telling an interviewer in 1963: "What I really want to be is a well-educated woman. I want to know about things and people and places. For the more worldly I am, the better actress I will become . . . Brilliant women terrify men. I study two nights a week at Columbia University in New York. Basic literature, philosophy and world affairs."