Peter Blythe obituary in "The Guardian" in 2004.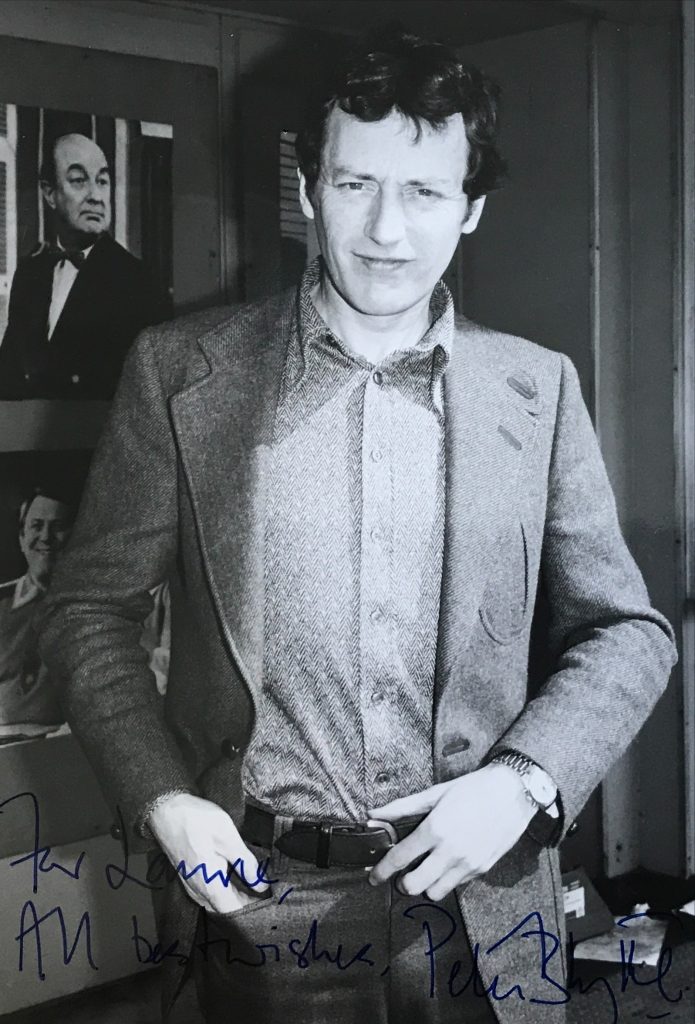 Peter Blythe who has died aged 69, lived for the theatre, and spent most of his life in it. Whether as a member of the National Theatre, the Old Vic, the Royal Shakespeare Company or in the West End, he brought his pale looks, thoughtful demeanour and dry sense of often angry comedy to some of the most stylish productions of the day, and a fascinating edge to almost every type he played.
On television, he is best remembered as "Soapy" Sam Ballard, the head of chambers in Rumpole Of The Bailey, in the 1980s and early 1990s. Earlier this year, he portrayed Tom King in BBC4's The Alan Clark Diaries.
He got on well with younger players, especially in seasons at the National; his technique, variety of approach and way of thinking gave them heart. Over their gifts he exercised a quiet influence. He would strut hilariously about the stage as a vain aristocrat in a Feydeau farce; lurk knowingly as a judge who was wiser than he could say in Ibsen; chatter shrewdly as an atheistic salesman among believers in Michael Frayn; and rise to authority as the man closest to Henry V in Shakespeare.
His performances nearly always caught critical attention. It was the ability, apart from pacing dialogue, to single out the leading trait in a character and make it seem more complicated than it was that made his acting arresting.
Yorkshire born, Blythe was one of that last generation to be called up for national service. He won a scholarship to Rada, and began his career with the Living Theatre Company, Leicester. Then he moved to the Nottingham Playhouse, under the direc tion of John Neville and Frank Dunlop. In 1963, Neville assembled a company to tour west Africa. Blythe played Orsino, to Judi Dench's Viola, in Twelfth Night. She fell ill with malaria in Accra: "I passed out and Peter Blythe had to carry me off. There was thunderous applause. They thought it was part of the play."
In 1964, the Nottingham Playhouse put on Macaulay's The Creeper, "a small masterpiece in mystery plays". It transferred to the West End in 1965. Blythe, as Maurice in the three-hander, was described as "choking, fumbling, poignant, and suddenly frightening". It was a performance to relish.
After Royal Court productions in 1969 of Edward Bond's Saved and Narrow Road To The Deep North, Blythe played Sir John Melville in David Garrick and George Colman the elder's The Clandestine Marriage (1975); and in Frayn's Make And Break (1980), was a light-minded salesman who brought the action to a halt with his reflections on the death of a businessman.
In David Hare and Howard Brenton's satirical play about Fleet Street, Pravda (1985), Blythe displayed a fine suit as – according to Michael Billington – "a biddable Tory smoothie". In Alan Ayckbourn's A Woman In Mind (1986), his portrayal of the secretly admiring doctor of the unhappy heroine found memorable expression in a strange, nervous, grating cry. Only thus, Blythe decided, could he give meaning to repressed emotion.
As the dim, booming older brother, Major Booth Voysey, in William Gaskill's revival of Harley Granville-Barker's The Voysey Inheritance at the Edinburgh festival, Blythe made a self-righteous bully deflate spectacularly "whenever the intellectual argument gets tough".
As for Peter Hall's version of Feydeau's Occupe-toi d'Amelie, known as Mind Millie For Me (1986), Blythe gave in it one of his most candidly comic portraits. In pursuit of the heroine, the Prince of Palestrina, wrote Benedict Nightingale in the Times, ended "with his trousers flung from the window and (an overboard touch maybe) his body festooned in vast orange long-johns". As if in contrast, Blythe's portrait of the manipulative Judge Brack, to Harriet Walter's Hedda Gabler (1996) proved "wonderfully quiet and controlled".
And so to Shakespeare: of his acting as Exeter, in Nicholas Hytner's revival of Henry V (2003), John Peter wrote in the Sunday Times that Blythe begins "as a smooth foxy operator and ends as a rocklike military commander, rather like Sir Michael Jackson, baggy-eyed hero of Kosovo".
Blythe's other television credits included Only Fools And Horses, The Falklands Play, Sword Of Honour, The High Life, Devil's Advocate, Love On A Branch Line, Barchester Chronicles and Foyle's War.
Blythe was married and had a daughter. For the last eight years, his partner was Harriet Walter.
· Peter Blythe, actor, born September 14 1934; died June 27 2004