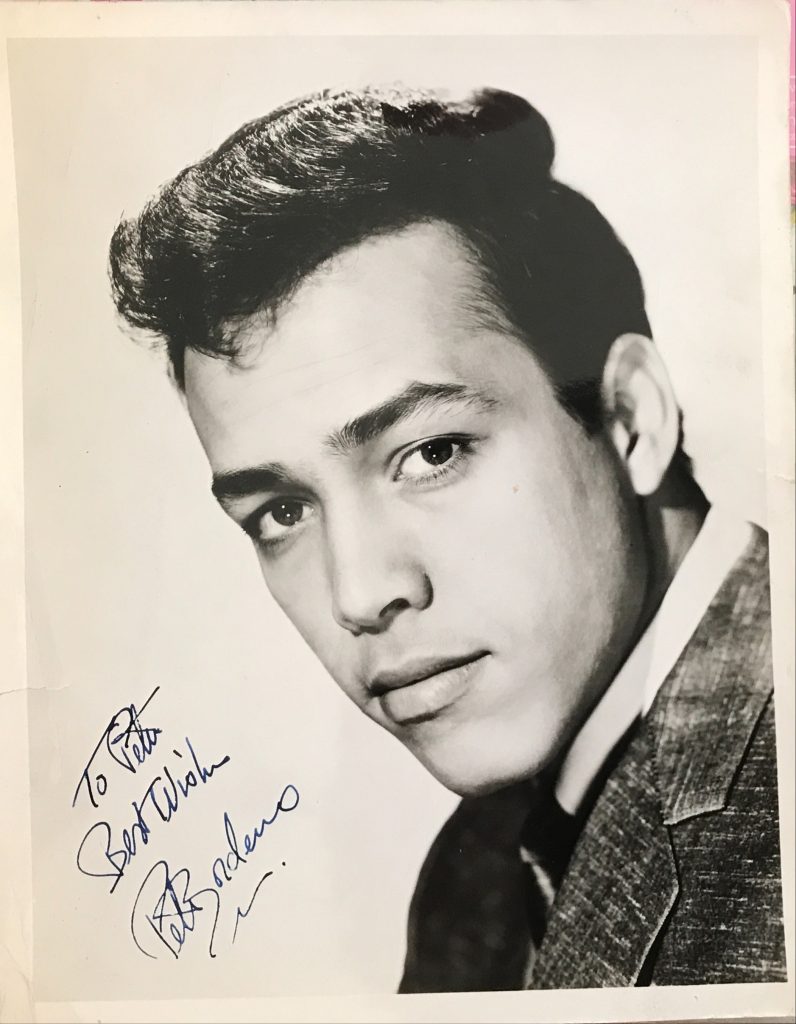 Peter Gordeno obituary in "The Guardian" in 2008.
Peter Gordeno who has died aged 69, was among the performing choreographers of the 1960s who redefined entertainment dance on television screens and the West End stage, introducing fluid, subtle, lyrical jazz dancing that contrasted with the more muscular, balletic style predominant in the US. Although he is remembered more widely for his short run of acting appearances as Captain Peter Carlin in the cult television series UFO, his true artistic importance lies in his dance and vocal achievements.
Gordeno excelled especially in live cabaret, backed by his loyal and enthusiastic dancers. As well as successes on the QE2, he appeared for many seasons throughout the 1970s and early 1980s at the Talk of the Town in London, and at the Sporting Club, Monaco, for three seasons at the Riviera in Las Vegas, in three hugely popular tours of the Soviet Union and a string of live concerts in Sydney.
One of three sons of an Italian-American father and a part-Scottish, part-Burmese mother, he was born Peter Godenho in Rangoon as war approached, in 1939, and experienced the kind of deadly dramas he later sometimes enacted on stage. At the post office in Rangoon with his mother, he narrowly escaped death by bombing, and one brother was lost as they fled the invading Japanese. Then Peter and his other brother Derrick were evacuated to Calcutta and left in an orphanage. He later began dancing in Calcutta cabarets and, following a collaboration with an English dancer, Yvonne Scott, decided to try his luck in Britain.
He knew no one in London and took jobs in a plastics factory, on a garage forecourt and in a coffee bar. There, in 1958, a showgirl told this dark, exceptionally good-looking newcomer about chorus auditions taking place for Shirley Bassey and Tommy Cooper's stage show, Blue Magic. Despite his comparative inexperience, he was one of the two chosen out of 100 hopefuls.
Three months later, Gordeno auditioned successfully for the London opening of West Side Story at Her Majesty's Theatre, and ascended from the chorus to the lead role of Pepe, his "real training in show business", he later admitted. His combination of a strong voice and unusual style of dance led to an EMI recording contract and attracted the attention of Ernest Maxim, producer of the Kathy Kirby Show (1964-65), one of the biggest on television. He was invited to appear on the show, and Maxim then asked him to choreograph as well.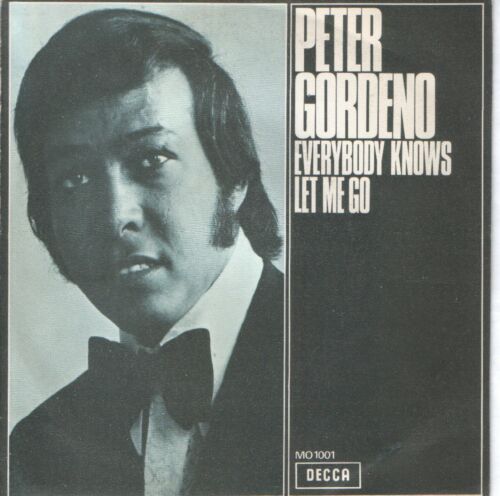 A succession of television appearances, intended to promote his records, created yet more demand for his ineffably smooth dancing and choreography. He appeared in Max Bygraves' show Do Re Mi (1961), took a role in the murder mystery film Secrets of a Windmill Girl (1965), and was in ABC-TV's The Blackpool Show, compered by Tony Hancock (1966), and the West End production of the musical Man of La Mancha (1968).
Gordeno began to suffer doubts about his career at about this time and was then involved in a serious car crash. He drew heavily on the support of his wife, Angela Wallace, and their children in overcoming the psychological damage, caused in particular by his facial injuries .
He bounced back with a solo spot on the The David Frost Show in December 1968, which led to a 13-week engagement on LWT's The Saturday Crowd (1969). That year he won a Golden Rose award in Montreux for the song Everybody Knows. An appearance on Juke Box Jury led to him being cast as Carlin in UFO, the 1970 television show created by Gerry and Sylvia Anderson in the wake of the success of their Thunderbirds and Captain Scarlet marionette series. Gordeno plunged into the part, often performing his own action stunts, but left after only seven episodes of the 26-part series when his agent warned him of the dangers of typecasting.
His later work included a BBC TV special, The Peter Gordeno Show, which had some success as an export, and performances with Mike and Bernie Winters and the Three Degrees in a BBC1 Seaside Special at Blackpool in 1975, and with Nana Mouskouri and Les Dawson in 1976 at Caesar's Palace, Luton. He also compered the UK and world disco dancing competitions live for ITV, and undertook behind-the-scenes choreographing and coaching of artistes including Tom Jones, Twiggy and Engelbert Humperdinck. However, his choreography and acting role as the Shaman in Carry on Columbus (1992) was less successful, as was his first and only appointment as director, for the stage production The Baskerville Beast (2005).
He experienced recurring bouts of cancer from 1995 but began work on his own musical story, The Golden Land, which his son Peter, who followed him into entertainment, is now completing. He is survived by Angela, two sons and a daughter, and by his brother.
• Peter Gordeno (Godenho), dancer, singer, actor and choreographer, born June 20 1939; died October 18 2008