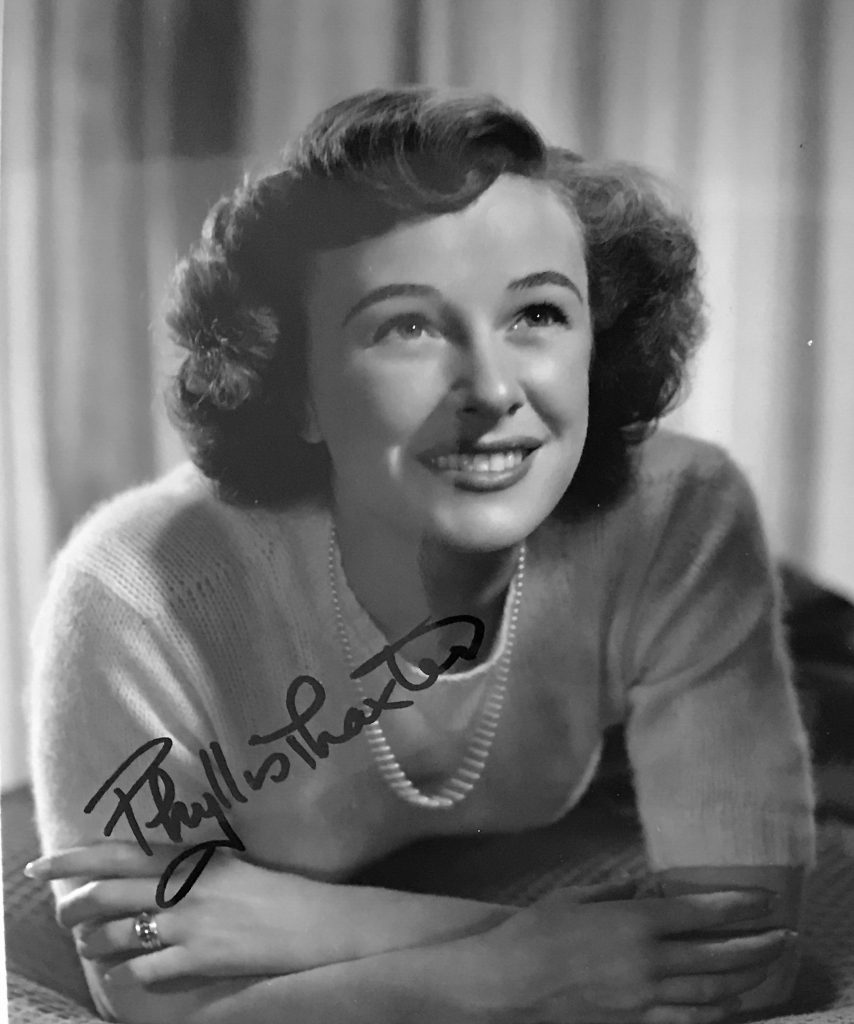 Phyllis Thaxter obituary in "The Guardian" in 2012.
Although Phyllis Thaxter, who has died aged 92, had a successful career in films throughout the 1940s and 50s, many will remember her for her last movie role, in Superman (1978). It was the small but key part of Ma Kent, the childless farmer's wife who adopts a foundling baby and names him Clark. Together with her husband (Glenn Ford) – both made intentionally to resemble the couple in Grant Wood's American Gothic painting – they bring up the abnormally physically gifted boy until he's ready to fly off "to fight for truth, justice and the American way".
At one stage, she tells him: "We Kents don't like show-offs, ain't that so? A body's got to be humble even if he knows that he's better'n his neighbours." A fragile beauty, Thaxter was never a show-off, but made an impact in a gentle way, frequently portraying wholesome, devoted wives and girlfriends. She shared that quality with the likes of Margaret Sullavan, June Allyson and Teresa Wright, though without having their star power.Advertisement
She was born in Portland, Maine, the daughter of a US supreme court judge. Her mother, who had been on the stage, encouraged her daughter to take up acting. Thaxter started to appear in summer stock, before making her Broadway debut, aged 19, in Robert E Sherwood's There Shall Be No Night (1940), which starred Alfred Lunt and Lynn Fontanne, and the 20-year-old Montgomery Clift.
Thaxter's theatre work led to her being offered the role of the pregnant wife of the second world war pilot played by Van Johnson in Mervyn LeRoy's excellent war drama Thirty Seconds Over Tokyo (1944). Although she had only a few scenes, Thaxter made enough impression to gain an MGM contract. According to the New York Times critic: "Phyllis Thaxter is surpassingly affecting as the wife of Captain Lawson. Her comparative newness as an actress and a wistful voice give her a rare advantage."
The role, more or less, set the pattern for her film career. However, she had a rare chance to play against her nice-girl persona in Bewitched (1945). Described on the posters as "Darling of society, Cruel love killer, She lived two amazing lives", Thaxter played a schizophrenic – both a femme fatale and a good girl, female archetypes of film noir. She is a sweet young thing, who literally hears an evil voice within her, urging her on to murder. But it was back to pure pure sweetness and light in the all-star Week-End at the Waldorf (1945), in which she wrongly believes her fiance to be in love with a film star (played by Ginger Rogers), until persuaded otherwise. In Living in a Big Way (1947), she is a pretty war widow with three children who offers comfort to unhappily married Gene Kelly, and in Tenth Avenue Angel (1948), she is the doting mother of Margaret O'Brien, the little girl who infects everyone, except the audience, with her faith and joy.
Thaxter's last movie for MGM was Fred Zinnemann's Act of Violence (1948), in which she tries to be the voice of reason to stop an embittered ex-PoW played by Robert Ryan from wreaking revenge on his commanding officer (Van Heflin), who betrayed him to the Nazis.
Before taking up a contract with Warner Bros, Thaxter appeared in Robert Wise's noir western Blood on the Moon (1948) for RKO, where she is a wealthy cattle baron's daughter, sorely used by baddie Robert Preston, who promises her marriage. Her first role for Warners, in The Breaking Point (1950), a remake of To Have and Have Not, based on the Ernest Hemingway short story, was one of her best. Made to look dowdy, she is remarkably effective as the practical wife of a charter boat captain, played by John Garfield. Trying in vain to convince him to sell his boat and make a steady living, she tells him, "Pop says you can have a job anytime on his lettuce ranch in Salinas." Worried that he might be attracted to the blonde Patricia Neal, Thaxter desperately lightens her hair.
Unfortunately, the studio didn't offer her anything better, with not much to do other than nobly stand by her man: Randolph Scott in Fort Worth (1951), Burt Lancaster in Man of Bronze (aka Jim Thorpe – All American, 1951), Gig Young in Come Fill the Cup (1951), Ronald Reagan as a put-upon professor in She's Working Her Way Through College (1952), and Gary Cooper as a Union officer facing a court martial for southern sympathies in Springfield Rifle (1952). It might have been much of the same, had she not contracted a form of polio. Although she recovered relatively quickly, Warners terminated her contract.
With few further film roles offered to her, Thaxter took to television in the 50s and 60s. Her film comeback in Superman was brought about by Ilya Salkind, the executive producer on the film, who was Thaxter's son-in-law. He was married briefly to the actor Skye Aubrey, Thaxter's daughter by James T Aubrey, a president of CBS-TV and later MGM. Thaxter and Aubrey divorced in 1962, and she married the publisher Gilbert Lea, who died in 2008. She is survived by her daughter, and her son, James Aubrey.
• Phyllis Thaxter, actor, born 20 November 1919; died 14 August 2012