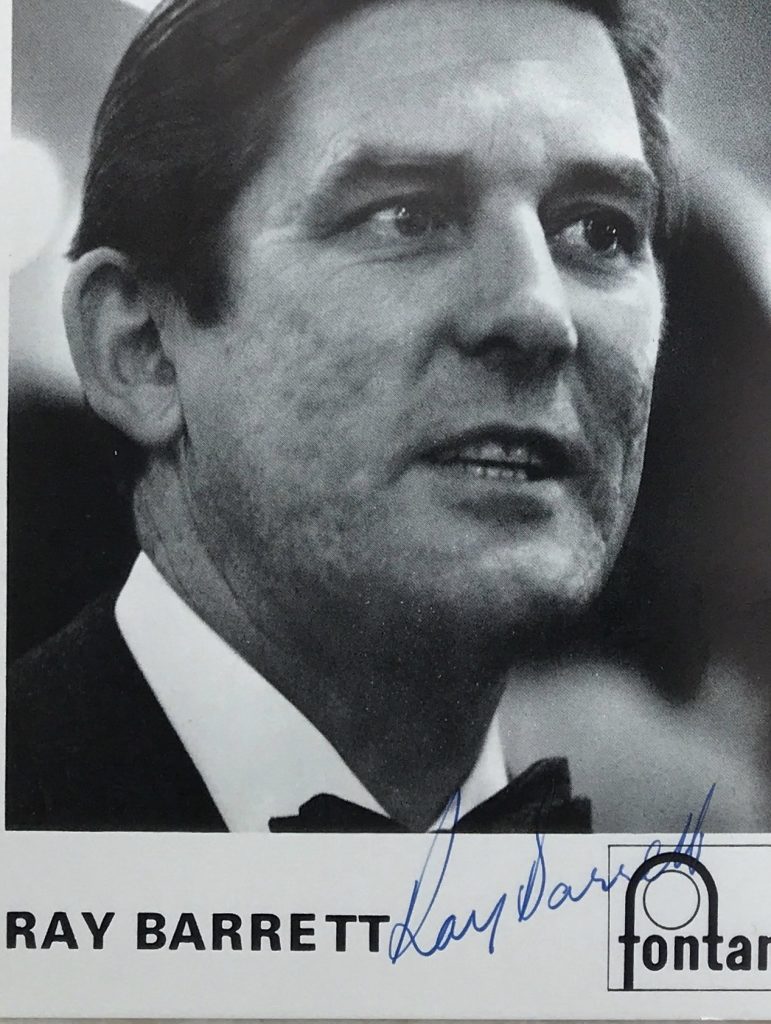 Ray Barrett. Wikipedia.
Raymond Charles Barrett (2 May 1927 – 8 September 2009) was an Australian actor. During the 1960s, he was a leading actor on British television, where he was best known for his appearances in The Troubleshooters (1965–1971). From the 1970s, he appeared in lead and character roles in a number of Australian films and TV series.
Barrett was born in Brisbane, Queensland and was educated at Windsor State Primary School and at Brisbane State High School. Fascinated by radio from an early age, he won an on-air talent competition in 1939, at the age of 12: an eisteddfod that was broadcast on 4BH radio, with a musical monologue about a dog called "Paddy". This was to place him on a path different from his dream of becoming a boat-builder. In 1949, Barrett was initiated into Freemasonry as an initiate and member of Empire Lodge #197 of the United Grand Lodge of Queensland.
Ray Barrett first appeared on radio in Brisbane, and later in Sydney, to where he moved in 1954. In 1957, he moved to Britain, where his background as a singer earned him a part in a revue alongside Beryl Reid, Patrick Wymark and Sheila Hancock.
Due to his "tough looks", Barrett was given character and "tough guy" roles from an unusually young age. In Britain, he played one of the lead roles in the TV series Emergency – Ward 10 and later one of the main characters, the hard-nosed oil worker Peter Thornton, in the long-running BBC series The Troubleshooters.
He also provided the voice of several characters in Gerry Anderson-produced "Supermarionation" series of the 1960s: Commander Shore and Titan in Stingray (1964–65) and later John Tracy, the Hood and various extras in Thunderbirds (1965–66). Also in 1965, he appeared as Bennett/Koquillion in the Doctor Who serial The Rescue.
In later years, Barrett starred in many well-known film and TV roles in his native Australia, living on Stradbroke Island, Queensland during the 1970s. He appeared as the Prime Minister(a character who is assassinated) in Burn the Butterflies, and as a miner in Golden Soak. In 1980, he played the part of the controversial Australian historical figure Governor Bligh in the ABC Television production The Timeless Land.  He had secondary roles in many other productions, including Something in the Air.
Barrett also appeared in such films as Don's Party and The Carmakers (about the 1973 release of the Leyland P76 car, co-starring Noel Ferrier and Nick Tate). In 2005, he received an Australian Film Institute Longford Life Achievement Award.
Barrett died on 8 September 2009 at the Gold Coast Hospital in Southport, Queensland, aged 82, after suffering a brain haemorrhage.  His final acting appearance had been in the 2008 film Australia. He was married three times, and left three children.