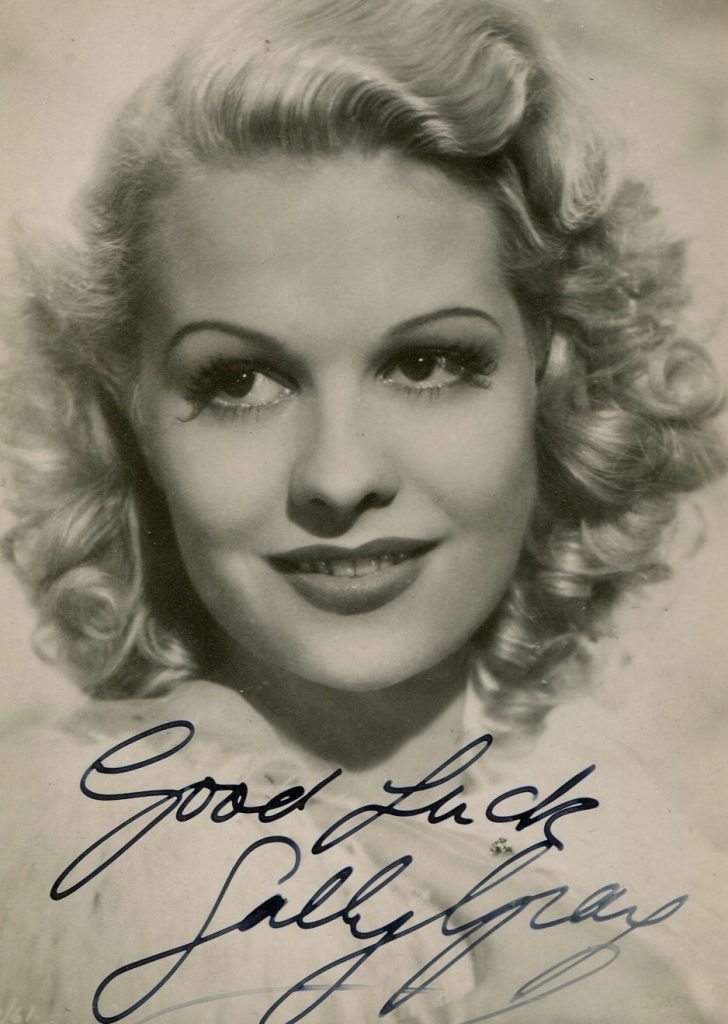 Sally Gray obituary in "The Guardian" in 2006.
Sally Gray who has died aged 90, was among a group of popular British film star beauties of the 1930s and 40s. But unlike Margaret Lockwood, Jean Kent and Patricia Roc, all of whom attempted careers in Hollywood, albeit unsuccessfully, the blonde with the seductive voice turned down a lucrative RKO contract, preferring to stay in England, eventually retiring from acting on her marriage into the aristocracy.
It was her spirited appearances in two RKO British productions, The Saint in London (1939) and The Saint's Vacation (1941), in which she was more than a match for Simon Templar (George Sanders and Hugh Sinclair, respectively) that convinced the studio that Gray was Hollywood material.
Not that she had to prove it to her British fans after more than a dozen, mostly minor, musicals and comedies, three of which, in 1938, were with Stanley Lupino: Cheer Up, Over She Goes and Hold My Hand. Others were The Lambeth Walk (1940), co-starring Lupino Lane, in which Gray sang the title number; Olympic Honeymoon (1936), in which she played Miss America in a cast headed by Claude Hulbert; and Lightning Conductor (1938) with Gordon Harker. Her biggest success came in the sentimental drama Dangerous Moonlight (1941), as an American journalist married to the shell-shocked Polish pilot and concert pianist Anton Walbrook, who has "composed" the Warsaw Concerto.
Gray was born Constance Vera Stevens in Holloway, north London. She trained as a child at the Fay Compton School of Dramatic Art and was discovered, aged 18, in the chorus of the Vivian Ellis musical, Jill Darling (1934), by John Gliddon, the agent who first spotted Vivien Leigh. In 1941, with her career blossoming, Gray suffered a nervous breakdown and stopped working.
Five years later she was back in films, looking as lovely as ever but with a new-found gravitas. In Green for Danger (1946), Sidney Gilliat's accomplished comedy thriller, she played a member of the medical staff being investigated for murder by Alastair Sim's Scotland Yard inspector in a wartime hospital during the height of the 1944 doodlebug offensive.
There followed a series of melodramas in which Gray came as close to playing a British femme fatale as almost anyone. In Carnival (1946) she is a 19th-century ballet dancer married to dour farmer Bernard Miles but in love with dashing Michael Wilding; in The Mark of Cain (1947) she played a French girl causing rivalry between brothers Eric Portman and Patrick Holt; and in the "spiv" movie – the closest the British came to film noir – They Made Me a Fugitive (1947), she was the revengeful ex-girlfriend of a crook, though her voice was too plummy to be convincing as a chorus girl.
Arguably Gray's best and meatiest role came in the McCarthyist exile Edward Dmytryk's Obsession (1949), as the cheating wife of psychiatrist Robert Newton, who plans a slow death for her latest lover. Gray's final film was Escape Route (1952), a quota quickie with ageing George Raft as an FBI agent in England.
In 1951, she became the third wife of Dominick Geoffrey Edward Browne, 4th Baron Oranmore and Browne, and 2nd Baron Mereworth. The marriage remained a secret until the couple attended the Queen's coronation in 1953. He died in 2002, aged 100, the longest serving British peer.
· Constance Vera Stevens (Sally Gray), actor, born February 14 1916; died September 24 2006