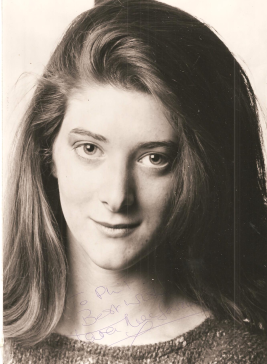 Tara MacGowran
Tara MacGowran has worked in television, film and theatre in the UK, Ireland and USA since appearing in 'Children of the New Forest' for the BBC at the age of 12. She lived and worked in the USA for some time appearing at The Great Lakes Shakespeare Theatre Festival in Cleveland, Ohio and The Attic Theatre, Detroit among others, before returning to London for her first major film appearance as Patience in 'Secret Places' for which she won the Bronze Mask at the Taormina Film Festival.
Other film credits include: 'The Dawning', 'Memoirs of a Survivor' and 'Spymaker: The Secret Life of Ian Fleming'. Television includes: 'Children of the New Forest' (BBC) , 'Miss Marple: Murder at the Vicarage' (BBC), 'Tropical Moon Over Dorking' (Limehouse), 'Murder in Eden' (BBC) and 'Spring Cleaning' (RTE). Theatre includes: 'Aristocrats' – Hampstead Theatre, 'Hinkemann' – The Old Red Lion and 'Translations'. Upcoming film releases include: 'Mummy Reborn', 'Krampus vs Vikings' and 'End Game'.
Having spent several years travelling, as a journalist and photographer, covering tournament chess with husband Michael Adams, Tara returned to acting in 2014.Tara MacGowran is the daughter of the great actor Jack MacGowran.