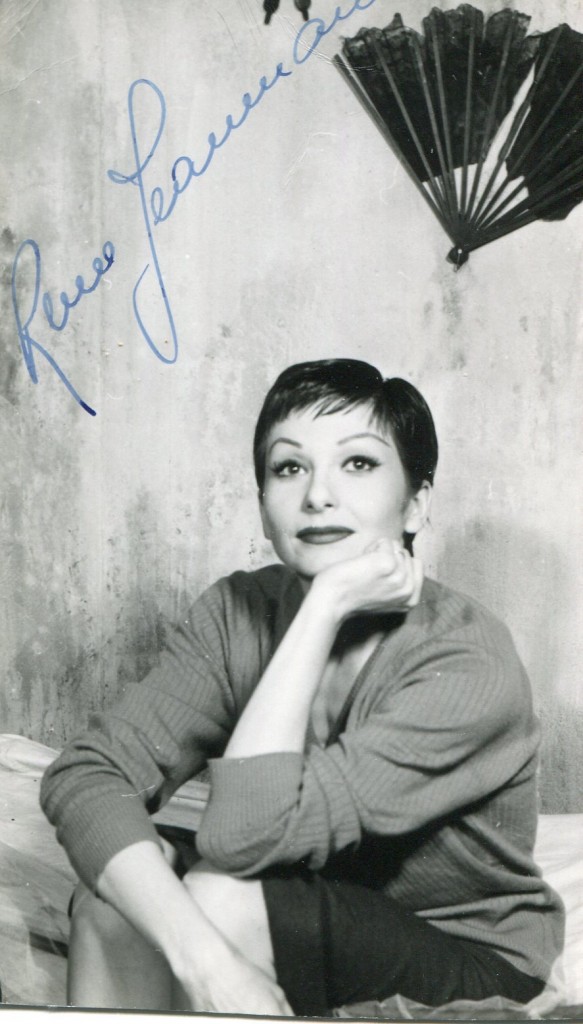 Zizi Jeanmarie (Wikipedia).
Zizi Jean, Who was born in 1924 was a ballet dancer and the widow of renowned dancer and choreographer Roland Petit. She became famous in the 1950s after playing the title role in the ballet Carmen, produced in London in 1949, and went on to appear in several Hollywood films.
Born Renée Marcelle Jeanmaire in Paris, she met her future husband and long-time collaborator Roland Petit at the Paris Opera Ballet at the age of nine. She joined his company, Petit's Ballets de Paris, in 1949. In 1954 they married, and their successful shows put her on the road to stardom. This led to a brief stint in Hollywood (where she was credited simply as Jeanmaire), appearing in the musicals Hans Christian Andersen (1952) and Anything Goes (1956). After that, she concentrated on ballet, producing more than 60 shows with Petit. From the 1960s on, she also had a career in music with such hits as "Mon truc en plumes".
Her notoriety and fame garnered her more press attention, even at fashion shows, where she was given front-row seating. At one fashion show for Yves Saint Laurent in 1967, Jeanmaire was prominently seated alongside Elsa Martinelli, Françoise Hardy, and Catherine Deneuve. Almost 50 years later, Vogue magazine would look back at Jeanmaire and her peers as representing a guidepost of fashion week celebrity culture.
She and Petit had one daughter, Valentine Petit, a dancer and actress.
Jeanmaire is mentioned in the lyrics of the song by Peter Sarstedt, "Where Do You Go To (My Lovely)?", in the first line: "You talk like Marlene Dietrich, and you dance like Zizi Jeanmaire / Your clothes are all made by Balmain and there's diamonds and pearls in your hair".
She is also mentioned in the lyrics of the song by Steve Harley & Cockney Rebel, "Nothing is Sacred", from their album Timeless Flight: "I said: "Zizi Jeanmaire wouldn't take this and neither will we / if they call me Napoleon again I'll be forced to let the lion free".
The Times obituary in 2020:
Zizi Jeanmaire's arrival in Hollywood in 1952 may not have been greeted with gasps, but there were certainly a few raised eyebrows. The petite Parisian ballerina had been invited across the Atlantic to replace Moira Shearer in the musical biopic Hans Christian Andersen and not only had she never danced or acted in a film before, she could barely speak a word of English.
None of this seemed to matter to the producer, Samuel Goldwyn. When he had seen her perform in the ballet Carmen in New York three years earlier, he had been struck by her aphrodisiacal powers, and it seemed his opera glasses had remained resolutely steamed up.
Jeanmaire picked up the language quickly enough, but getting used to film-making was a challenge that threatened to derail the $4 million (nearly $39 million today) production, in which she played opposite the stars Danny Kaye and Farley Granger.
In an article that introduced the pixie-cropped gamine to the American cinema-going public, she admitted: "When I first walked on the set, I was completely unnerved. I tried to recall the hundreds of times I had danced on the stage without the slightest trace of fright, but it didn't work. Nothing worked. I had studied my lines far into the night, but when I came on the set next morning, I felt that I had never even heard of them before. When Charles Vidor, the director, yelled 'action', I could hold back no longer. I cried hysterically."
Tactfully the crew and director pretended not to notice, then Vidor came up with a cunning ploy. He called for a rehearsal but then whispered to the cameraman to start shooting. "Thinking it was a mere rehearsal I was much more relaxed," Jeanmaire recalled, "and the scene came off beautifully."
When it came to the next scene, Vidor suggested they do it in French. "You know, both he and Farley Granger speak my language well," Jeanmaire said. "We ran through the scene in French, and it completely relaxed me. The next time it came off perfectly, and in English, too."
The resulting film, which featured a ballet sequence choreographed by Jeanmaire's future husband, Roland Petit, became one of the highest-grossing pictures in America that year, and Jeanmaire — Goldwyn had persuaded her to ditch her first name — became a household name.
When she returned to France she reinstated her childhood nickname, Zizi, and, reminding crowds that she could sing as well as dance and act, she became a popular cabaret headliner. She also became known for her chic boyish hairstyle and the extravagant Yves Saint Laurent-designed costumes that showed off her by now celebrated legs.
Jeanmaire at the Alhambra music hall in Paris on December 1, 1961
Such was her allure and cultural status that she was immortalised in the opening lines of Peter Sarstedt's 1969 hit song Where Do You Go To (My Lovely) — "You talk like Marlene Dietrich, and you dance like Zizi Jeanmaire". Less glamorously she was cited by the actress Ruth Madoc as her unlikely inspiration for Gladys Pugh, the character she played in the 1980s BBC sitcom Hi-de-Hi!.
She soon became known for her revues, created by Petit, and her cheekily suggestive signature song, Mon truc en plumes, which she would perform in a costume designed by Yves Saint Laurent, accompanied by 12 young men carrying huge, flamingo-pink ostrich feather fans.
She became a staple on French television, where Petit showed her off in TV specials, including a 1980 production of his Carmen alongside Mikhail Baryshnikov, and she recorded a steady stream of albums. In 1972, the maverick French songwriter Serge Gainsbourg created a musical revue for her. Zizi, je t'aime! was staged at the Casino de Paris, which she and Petit had bought in 1970 for the specific purpose of staging Zizi shows.
Jeanmaire returned to the first stage on which she had danced, at the Paris Opera, to debut a new version of La symphonie fantastique in 1975. Shortly into the run, she sustained an injury which threatened to end her dancing career. Petit tried to console her by pointing out that she could still sing and act. "No," replied the 51-year-old. "I'm a dancer. If I can't dance, I can't do anything." She made a full recovery.
In the late 1970s the couple relocated to Marseilles, where Petit directed the city's ballet company. The apparently ageless Jeanmaire appeared as the wicked fairy in the company's production of The Sleeping Beauty in 1990, and starred in Petit's final spectacle for her at the Opéra Bastille in Paris a decade later. In 1998 they made their final move, to Geneva, where Jeanmaire, by now the recipient of all of France's most prestigious honours, wrote her memoirs in 2008.
She never wavered in her pre-feminist faith in Petit, whom she viewed as her own personal Pygmalion. "Trust a man's taste," she said. "He will tell you what is right for you and not be influenced by anything else