Betty Field (February 8, 1913 – September 13, 1973) was an American film and stage actress.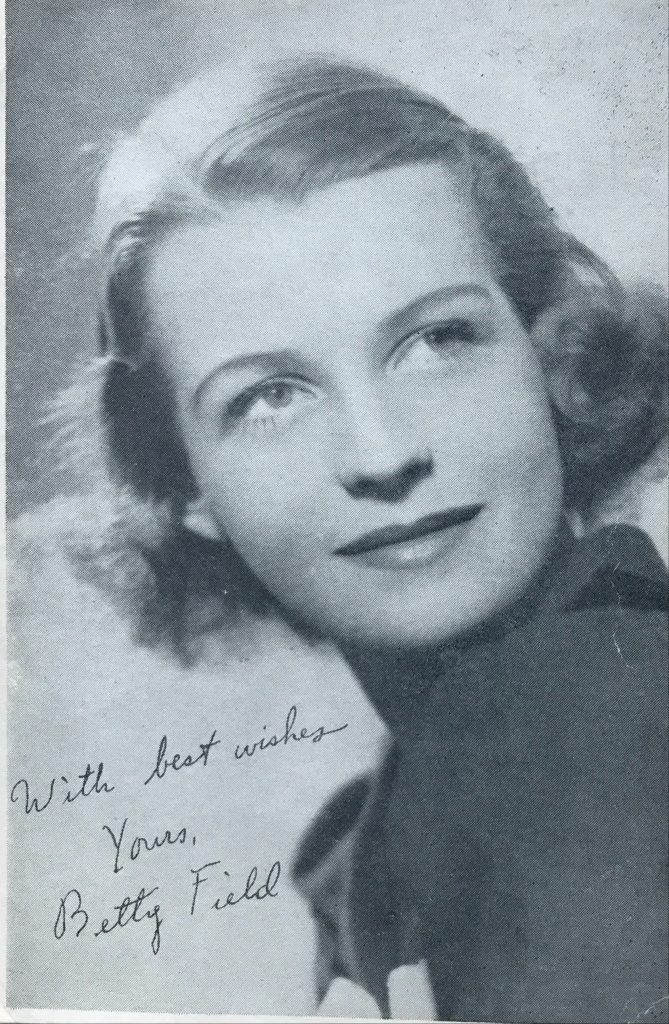 Field was born in Boston, Massachusetts to George and Katharine (née Lynch). She began acting before she reached age 15 and went into stock theater immediately after graduating from high school. She attended the American Academy of Dramatic Arts in New York City.
Producer/director George Abbott is credited with having discovered Field.
Field began her acting career in 1934 on the London stage in Howard Lindsay's farce She Loves Me Not. Following its run she returned to the United States and appeared in several stage successes, then made her film debut in 1939.
Field's Broadway credits include Page Miss Glory (1934), Room Service (1937), Angel Island (1937), If I Were You (1938), What a Life(1938), The Primrose (1939), Ring Two (1939), Two on an Island (1940), Flight to the West (1940), A New Life (1943), The Voice of the Turtle (1943), Dream Girl (1945), The Rat Race (1949), Not for Children (1951), The Fourposter (1951), The Ladies of the Corridor (1953), Festival (1955), The Waltz of the Toreadors (1958), A Touch of the Poet (1958), A Loss of Roses (1959), Strange Interlude (1963), Where's Daddy? (1966), and All Over (1971).
Her final stage performances were in three productions at Lincoln Center for the Performing Arts in 1971.
Field's role as Mae, the sole female character, in Of Mice and Men (1939) established her as a dramatic actress. She starred opposite John Wayne in the 1941 movie The Shepherd of the Hills. Field played a supporting, yet significant role as Cassandra Tower in Kings Row (1942).
A life member of The Actors Studio, Field preferred performing on Broadway and appeared in Elmer Rice's Dream Girl and Jean Anouilh's The Waltz of the Toreadors, but returned to Hollywood regularly, appearing in Flesh and Fantasy (1943), The Southerner (1945), The Great Gatsby (1949), Picnic (1955), Bus Stop (1956), Peyton Place (1957), for which she was nominated for a Laurel Award, BUtterfield 8 (1960) and Birdman of Alcatraz (1962). Her final film role was in Coogan's Bluff in 1968. She also appeared on television series such as General Electric Theater, Alfred Hitchcock Presents, Dr. Kildare and many more.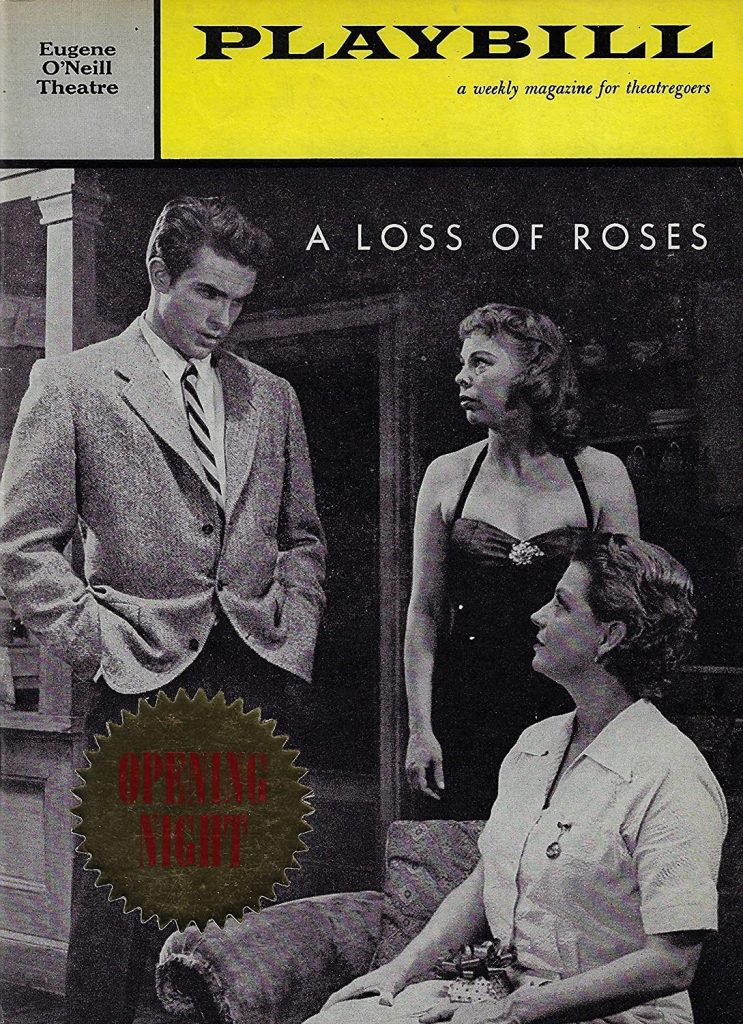 Her first marriage to playwright Elmer Rice ended in divorce in May 1956. The couple had three children, John, Paul and Judith. John became a lawyer, but he died in a swimming accident at age 40. Her second marriage to Edwin J. Lukas lasted from 1957 to 1967. Her third marriage to Raymond Olivere lasted from 1968 until her death in 1973.
Field died from a stroke on September 13, 1973, at Cape Cod Hospital in Hyannis, Massachusetts, aged 60.
A hugely talented actress who went from playing attractive young flirts to plain motherly types, Betty Field much preferred stage to screen, and even though her movie career was sporadic, she played some memorable characters in a career spanning almost thirty years.
Born in Boston, Massachusetts on February 8th 1916, Betty had a fondness for theatre from an early age, and by 1933 was acting on the London stage. Making her movie debut in 1939, Field had a notable role in Lewis Milestone's terrific version of John Steinbeck's rural tragedy 'Of Mice and Men'('39). Starring Burgess Meredith and Lon Chaney, Jr. Betty played Mae Jackson, the pretty and conniving flirt who's accidentally killed by Chaney, Jr's gentle giant; Lennie. It was a strong sexy turn, and was soon followed by another in John Cromwell's 'Victory' ('40), as a showgirl chased by both Fredric March and Jerome Cowan.
The following year saw Betty shine as a sleazy femme-fatale in Anatole Litvak's excellent noir 'Blues in the Night' ('41), before being poisoned by her doctor father (Claude Rains) in the small-town melodrama 'Kings Row' ('42), now famous for containing perhaps Ronald Reagan's finest performance. After a touching turn playing Joel McCrea's wife in the excellent biopic 'The Great Moment' ('44), another good part came in Jean Renoir's terrific and rather moving drama 'The Southerner' ('45) as another loyal wife, this time to Zachary Scott's hard-working farmer. A high profile role came in the 1949 version of 'The Great Gatsby', playing Daisy opposite Alan Ladd's Jay Gatsby. The movie was not well received, with Field considered miscast in a part that, to this day, is known as being very difficult to carry off.
Following the disappointment of 'Gatsby', Field spent the next few years on stage and television before receiving supporting parts in Joshua Logan's two big screen versions of successful stage productions. First she was Kim Novak's mother in 'Picnic' ('55), and then stole the show as sexy diner owner Grace, in the climactic snow-bound section of 'Bus Stop' ('56) with Marilyn Monroe and Don Murray. Another big hit was Mark Robson's 1957 soap-opera 'Peyton Place', where Field was the browbeaten wife of Arthur Kennedy's drunken handyman.

After a witty turn playing Elizabeth Taylor's nosy neighbour in 'Butterfield 8' ('60) Field had one of her best roles as Burt Lancaster's quiet-spoken wife, in 'Birdman of Alcatraz'. Although she was only in a few scenes, they were all memorable, especially her final prison visit with Lancaster, which is rather moving and showed Field at her very best.
Field was also excellent as a pregnant missionary in John Ford's final movie '7 Women' ('66), a studio-bound yet mostly compelling period drama with Anne Bancroft and Sue Lyon among the other missionary women. A rare comedy followed with the hit-and-miss sex farce 'How to Save a Marriage and Ruin Your Life' ('68), and she was wonderful in it, playing Stella Stevens' sarcastic landlady. Field's final role came in Don Siegel's New York cop thriller 'Coogan's Bluff' ('68), as the shady mother of Don Stroud's psychotic criminal. She was great as usual, really inhabiting the role of an aggressive mother defending her son from Clint Eastwood's no-nonsense deputy.
Just five years later, at the fairly young age of 57, Field sadly died following a stroke, on September 13th 1973. Married three times with two sons and a daughter, Betty Field was somewhat underappreciated in movies, and while not a big fan of Hollywood, she still managed to give some outstanding performances in a wide range of roles. A far better actress than most of the material given to her, Betty Field's expressive performances saw her in everything from literary classics to some now cult pictures.