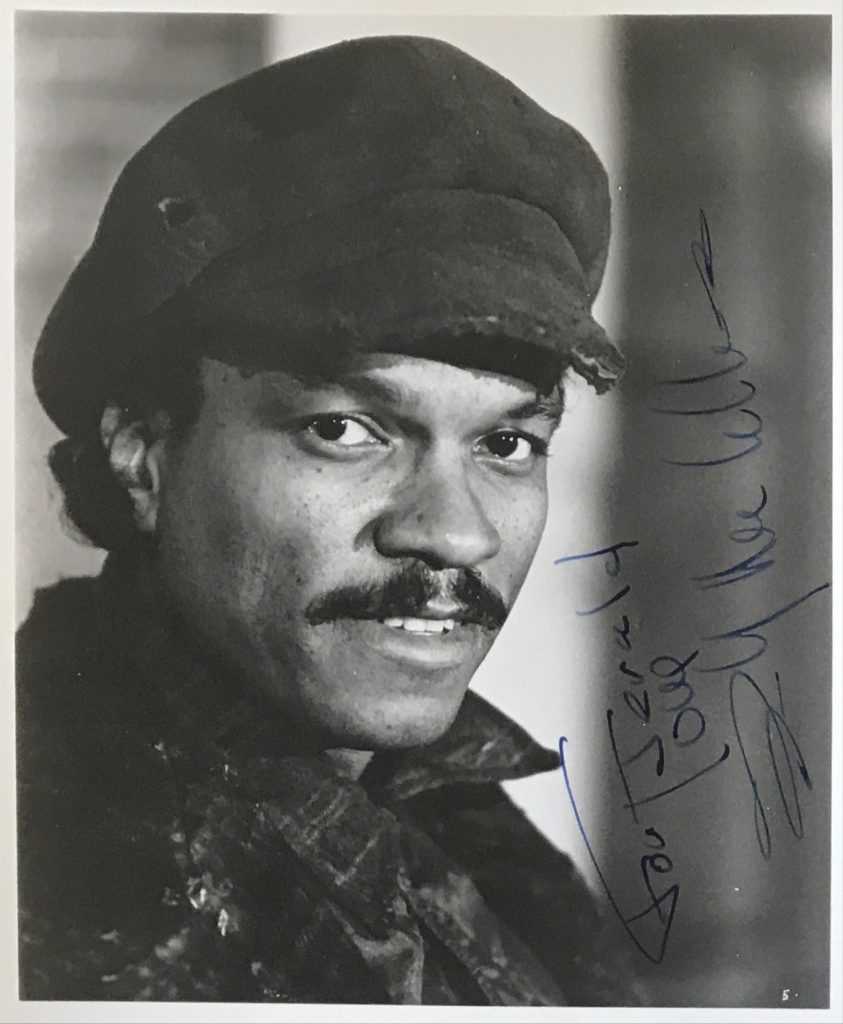 William December "Billy Dee" Williams Jr. (born April 6, 1937) is an American actor, voice actor, and artist. He is best known as Lando Calrissian in the Star Wars franchise, first in the early 1980s, and nearly forty years later in The Rise of Skywalker (2019), marking one of the longest intervals between onscreen portrayals of a character by the same actor in American film history.
Williams was born in New York City, and raised with his twin sister Loretta in Harlem. In 1945 he made his Broadway theatre debut at age seven in The Firebrand of Florence. He later graduated from The High School of Music & Art, then won a painting scholarship to the National Academy of Fine Arts and Design, where he won a Hallgarten Prize for painting in the mid-1950s. To fund his art supplies he returned to acting, including stage, films, and television. He kept creating art, his work has since been shown in galleries and collections worldwide.
Williams' film debut was in The Last Angry Man (1959), but he came to national attention in the television movie, Brian's Song (1971) which earned him an Emmy nomination for Best Actor. He has appeared in at least 70 films over six decades including critically acclaimed and popular movies such as, Lady Sings the Blues (1972) and Mahogany (1975) both starring Williams paired with Diana Ross; and Nighthawks (1981). In the 1980s he was cast in his most enduring role as Lando Calrissian, becoming the first African-American actor with a major role in the Star Wars franchise, in The Empire Strikes Back (1980), and Return of the Jedi (1983). He also delivered Lando as a voice actor in video games, animated series, and the National Public Radio adaptation of The Empire Strikes Back. He was inducted into the Black Filmmaker's Hall of Fame in 1984, and earned a star on the Hollywood Walk of Fame in 1985. Another enduring franchise relationship started with Batman (1989), playing attorney Harvey Dent, a role that was also developed into a villainous alter-ego, Two-Face, which he voiced for The Lego Batman Movie (2017).
Williams's television work has over sixty credits starting in 1966 including recurring roles over the decades in Gideon's Crossing; Dynasty, General Hospital: Night Shift; and General Hospital. Numerous cameos and supporting roles included being paired with Marla Gibbs on The Jeffersons, 227, and The Hughleys. Later work included voice acting in the series Titan Maximum (2009), and appearing on the reality show Dancing with the Stars (2014). His work has earned him numerous awards and honors including three NAACP Image Awards, and the NAACP Lifetime Achievement award.