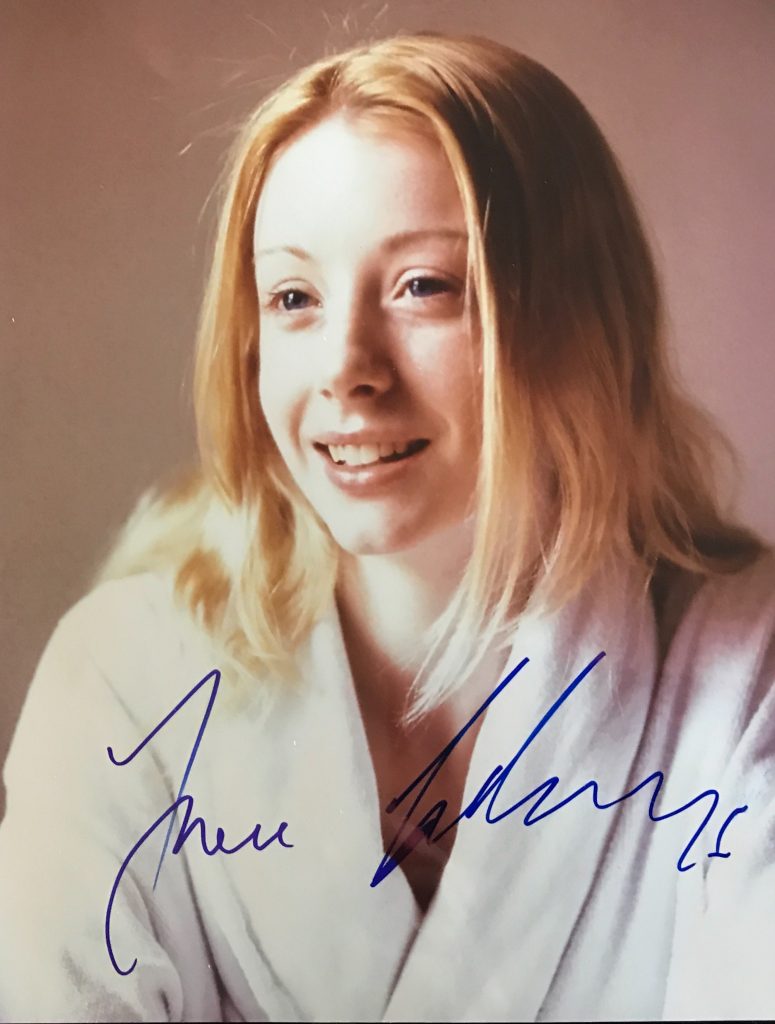 "Irish Examiner" 2019.
She's already starred in 'Brooklyn' and 'Fantastic Beasts', but 2019 will bring even bigger releases for Waterford-born Fiona Glascott. Watch this space, writes Shilpa Ganatra.
Even if Fiona Glascott's name is unfamiliar, her work won't be. The Waterford native has channelled Maggie Smith to play a young Professor McGonagall in the latest installment of Fantastic Beasts, bid farewell to her sister played by Saoirse Ronan in Brooklyn, and portrayed the well-to-do Sarah in Indian Summers.
Those with a sharper memory might remember her from earlier appearances as Matt Le Blanc's ex in Episodes, the sister of victim Aiden Gallagher in Omagh, and scorned student Isolde in Liz Gill's romcom Goldfish Memory, which earned them both nominations at that year's Iftas.
Rest assured, you'll be hearing much more of Fiona in 2019. "It's been a really exciting time recently, so I'm keeping my fingers crossed for good things this year," she says, speaking from London where she lives. "Being in Fantastic Beasts was a huge thing in 2018, even though it was recorded the year before. It helped me to get to LA and have meetings about future opportunities."
Things are certainly looking rosy, which is no surprise for those who have caught her performances; she impressively embodies each role to the extent that Fiona Weir, the casting director of Brooklyn, snapped her up for Fantastic Beasts without an audition. But away from the cameras, Fiona's character is as humble as they come. She speaks with a can-you-believe-it excitement about her life and career, and is as much as a listener as a talker.
Yet she's so much of an actor that she's married to one too: The Death of Stalin and Bodyguard star Tom Brooke, with whom she lives in south London.
They met while starring in a live-to-TV theatre production in London eight years ago, soon after Fiona moved from Ireland to pursue her acting career.
"We played husband and wife on a really short job, and I never realised I liked him except smiled every time I saw him and I kept wondering where he was all the time," she explains.
"A friend of mine suggested that maybe I like him. It turned out he lived quite close to where I did, and he asked if I wanted to meet him after the job finished. I went to meet him and he had laid out a picnic, and as the lights went down over London, he brought out some candles and champagne. I thought, 'oh he's good'. We've been together since." The pair married on new year's eve four years ago, and a year later, their daughter Ruby was born.
"When we had her, we said that we'd stick to our guns with our career — for her, not in spite of her," she explains. "Of course it helps that the other person is in the same job. Even someone who only works from home might not understand if a job takes you away for a few weeks.
"He has an extraordinary career, and we both make sure each other's work is exactly what the other person wants it to be. Ruby has always been with me when I'm working, and when he has to travel for the right job, that's okay. I can hold down the fort with the dogs and child, and we'll visit if we can." Rather than pause her own career, with drama's notoriously all-or-nothing working hours, she's found that motherhood has helped her focus her goals.
"It's actively been great for my work, to have a daughter who takes up all my time," Fiona laughs. "It sounds like a contradiction but it's true. Being a mother has made me more ambitious. I want to work harder than ever and I want to succeed more, not to just see a role model but also for Ruby to be proud of me. It's such an enormous change, having a child, that's propelling me forward.
"I haven't stopped myself for going for something great because it would take me away," she adds. "I'm lucky that I had Ruby at a point when I'm choosy about what I do anyway. If I had her in my early twenties it might be a different conversation, but if I want to do a project, it means it would be good enough to have to take her with me, or enrol her in a school, or whatever I was legally allowed to do. I have to look all that up…"
Can Glascott tell based on a script how well a project might fare?
"In my experience, if the performance in the moment is creative and alive and we're working as a team, they have the best shot of coming out as a complete great production," she says. "Of course there's a lot that the actors aren't involved in, like the editing, cinematography, the music. But on certain jobs, like Brooklyn, even on set it felt believable that I was heartbroken because my sister was going away — despite there being a whole row of crew crammed onto the set with us!
"That was a bizarre situation. However it came across, there was a camera person crouched down beside me with a microphone on my lap, and the crew almost touching me because there was no room. Working on films strangely ruined watching them for me at first. I'd watch a poignant scene between two people and think 'but there's a million people there! They're not on their own.'"
Filming Fantastic Beasts: The Crimes of Grindelwald was a particular boon as the films are known for their unbeatable quality of cast. Even though the young Professor McGonagall was only in it for a couple of scenes, they were added at JK Rowling's behest. So while it remains to be seen what JK's brilliant mind has in store for the third spin-off, our fingers are crossed that Glascott will reprise her role, especially as not many can follow in Maggie Smith's footsteps.
"I'm a huge Harry Potter fan, and Maggie Smith is a legend," says Glascott. "I didn't get to meet her but there's so much of her work in the character, it was like being given a cheat sheet of the character.
"When you think about all the other films she's done, right back to The Prime of Miss Jean Brodie, she's an extraordinary lady and I was understandably nervous. But I was helped massively by Catherine Charlton, the dialogue coach. She had me listen to Maggie's voice as Professor McGonagall as I went to sleep for about two weeks. My husband was like 'what are you doing'? And I told him that myself and Maggie were going to have a little lie down. It really helped, it's such a clever way of getting a speech pattern into your mind."
Being a Harry Potter fan, experiencing the cloisters of Hogwarts, filmed in Lacock Abbey, was a thrill in itself.
"Most of the crew are big fans as well, so you chat about the books and it's a really nice set to work because it's like people going to have a day out, not just going to work."
Glascott's next roles look to be just as intriguing. Firstly, there's Supervised in which she stars alongside Fionnula Flanagan, Beau Bridges, Tom Berenger, and Louis Gossett Jr. The comedy follows the escapades of four ageing superheroes in a retirement home in Ireland.
After that, there's The Martini Shot, which wrapped in October 2018. That stars John Cleese, Derek Jacobi, and Matthew Modine [Full Metal Jacket, Stranger Things]. "Matthew plays an ageing film director who's dying, and wants to make his great last masterpiece," explains Glascott.
"He's also got this idea that he's a god and can change people anyway he wants to. I play Mary, his assistant with whom he has a very intense working relationship.
"It's a really funny, interesting piece, and Matthew was such a pro. It was great to work with Derek Jacobi in it too; he insisted I call him Del Boy because I kept calling him Sir Derek. But I couldn't go that far."
With such varied roles and no sign of her determination abating, it's no surprise that Glascott's desires for the future are to carry on the way she's going. "As I go on, I'm playing more interesting characters in very different projects so I'd love for that to continue. And I'd love to do big movies, as they're so much fun. Basically, lots more of the same would be wonderful."