BFI Screenonline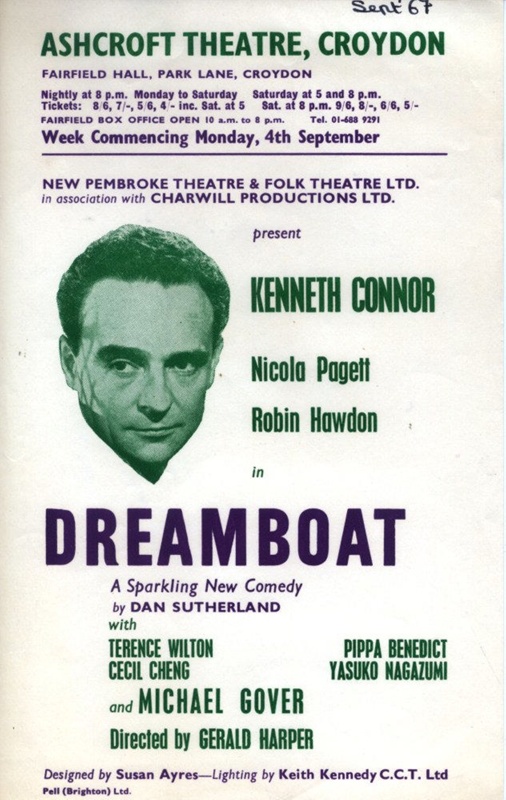 As out-of-time adventurer and swordsman Adam Adamant, Gerald Harper cut a swathe through swinging '60s London, having earlier established his particular brand of upper crust gentility in a string of stage and film performances.
Although originally intending to train as a doctor, he became interested in acting while still at school, eventually attending RADA upon completion of his National Service. His theatrical career began with a series of one-act plays by Bernard Shaw at the Arts Theatre, before starring opposite Frankie Howerd in 'Charley's Aunt'. He later spent two years with the Old Vic Company, touring America and appearing on Broadway.
In the 1950s he had minor roles in The Dam Busters (d. Michael Anderson, 1955), The Admirable Crichton (d. Lewis Gilbert, 1957) and A Night to Remember (d. Roy Ward Baker, 1958), usually portraying officers or silly asses, though he was briefly cast against type as a petty criminal for Tiger in the Smoke (d. Roy Ward Baker, 1956). As an unsuspecting army captain he fell victim to a scam perpetrated by the titular con artists in The League of Gentlemen (d. Basil Dearden, 1960), but was back in civvies for appearances opposite Cliff Richard in The Young Ones (d. Sidney J. Furie, 1961) and Wonderful Life (d. Sidney J. Furie, 1964).
In 1966 he received his first starring role when he won the lead in Adam Adamant Lives! (BBC, 1966-67). Created by Sydney Newman and produced by Verity Lambert – the same team responsible for the earlier success of Doctor Who (BBC, 1963-89, 2005-present) – the series followed the adventures of the eponymous Edwardian crime-fighter, who in 1902 is frozen in a block of ice by his arch-foe The Face. Accidentally re-awakened over six decades later, Adamant teams up with the liberated Georgina Jones (Juliet Harmer) and resumes his battle against injustice, all the while attempting to come to terms with the culture shock of mid-1960s city life.
Following Adamant's cancellation, Harper enjoyed renewed success as suave newspaper proprietor James Hadleigh in Gazette (ITV, 1968); so popular did the character prove that he was upgraded to country squire and given his own spin-off, Hadleigh (ITV, 1969-76). In 1980 Harper was profiled in This is Your Life (BBC, 1955-64; ITV, 1969-94; BBC, 1994-2003), and subsequently embarked upon a second career as a disc jockey, famously giving away champagne and chocolates to favoured listeners on his Radio 2 'Saturday afternoon selection'.