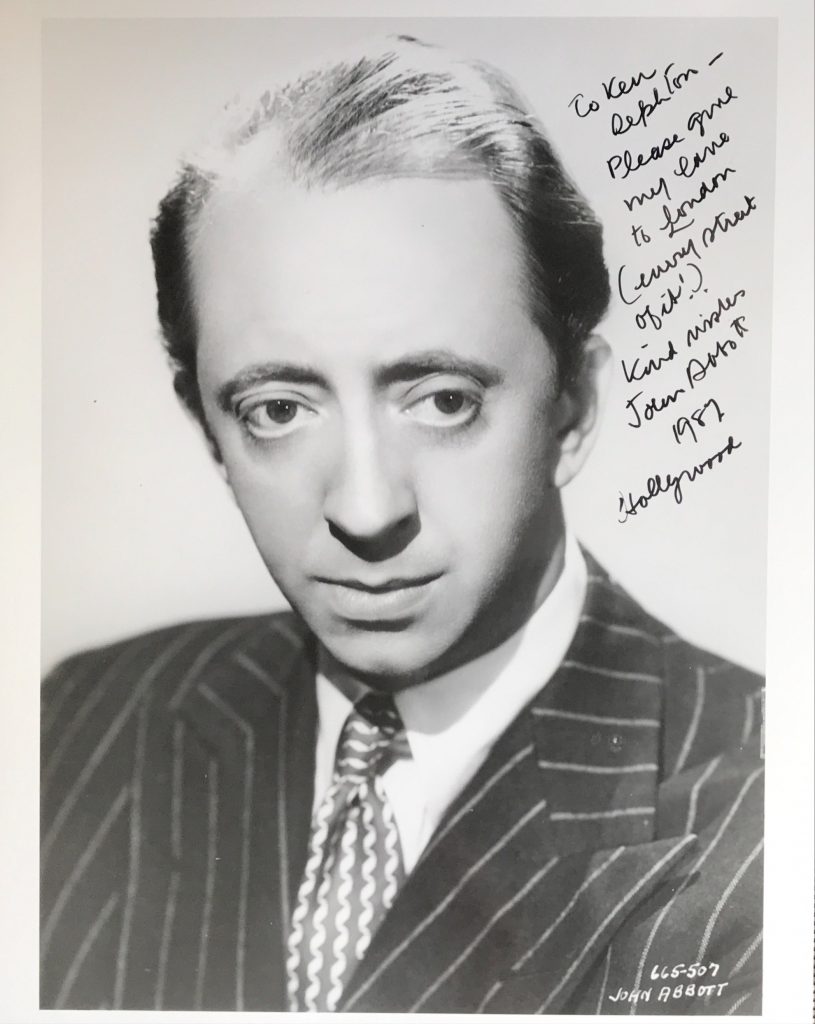 John Abbott obituary in "The Independent" in 1996 by Tom Vallance.
With his wide, slightly bulging eyes, drooping lower lip and clipped diction, John Abbott was one of the screen's most distinctive character actors and one of its finest.
A veteran of dozens of performances on stage, screen and television, the British-born actor had a solid background in the theatre before establishing himself as a Hollywood reliable, creating a gallery of often small but memorable roles. His por-trayals in Jane Eyre (1943) and The Woman in White (1947) are often cited when classic suppor-ting performances are discussed.
Born in London in 1905, he was a commercial artist when he substituted for a sick friend in an amateur production which was seen by the actress Sybil Thorndike, who remarked, "Now there is a young man who knows how to make an entrance!" His entrance into the professional theatre came in a London revival of Aurengzebe (1934). Then, after repertory in Watford and Crewe, he was asked by Tyrone Guthrie to join the Old Vic in 1936: the period that followed, including roles as Nathaniel in Love's Labours Lost and Malvolio in Twelfth Night.
In 1937 he was part of the legendary production of Hamlet performed in Elsinore with Laurence Olivier and Vivien Leigh, along with Alec Guinness as Osric and Anthony Quayle as Laertes. The cold winds and teeming rain that dogged the company gave added resonance to Claudius's line, delivered by Abbott, umbrella in hand, "Is there not rain enough in the sweet heavens?".
He made his film debut in Conquest of the Air (1935) and was in an early BBC television production, The Harmfulness of Tobacco in 1937, but concentrated on theatre prior to the outbreak of war, when he was attached to the British Embassy in Stockholm, his work involving coding and decoding.
In 1941 he was in California and about to return to England when he was offered a role in Shanghai Gesture. It was the start of a prolific screen career that included roles in Mrs Miniver (1942),The London Blackout Murders (1942, a rare leading role) and memorably in Jane Eyre as the half-mad brother of the first Mrs Rochester. In The Vampire's Ghost (1945) he had the leading role as a sympathetic vampire and the following year made his Broadway debut in He Who Gets Slapped.
The 1946-47 period was a prime one for Abbott in Hollywood – he was a member of the court in Anna and the King of Siam (1946), a cellist indignant when Bette Davis tries to bribe him in Deception (also 1946), and best of all, his snivelling, asthmatic Frederick Fairlie, uncle of twin sisters in The Woman In White (1948).
Abbott's performance in The Woman in White prompted Warners to offer him a long-term contract but he turned it down, preferring to divide his time between Hollywood and Broadway. In 1944 Tennessee Williams had written a one-act play Auto-da-Fe (his only verse play) for Abbott. Other Broadway appearances included Lillian Hellman's Montsarrat (1948) and Jean Anouilh's The Waltz of the Toreadors (1957).
Abbott worked steadily until 1987, his films including Madame Bovary (1949), Gigi (1958) as Chevalier's valet, Gambit (1967), and The Jungle Book (1967) as the voice of one of the wolves, and his prolific television work including The Man from Uncle, Bewitched, and Alfred Hitchcock Presents. Then he retired, stating: "I haven't the slightest urge ever to work again." He remained active socially and pursued his interests in art and music.
In 1944 he had been offered a leading role on Broadway in Mary Chase's Harvey, but argued that the writer was wrong to have the play's imaginary six-foot rabbit visible on stage and left the production. Later Chase followed his advice. When asked about missing this chance of stardom, Abbott maintained he had no regrets: "My goal was always simply to do good work without having to run about looking for jobs."
Tom Vallance
John Abbott, actor: born London 5 June 1905; died Los Angeles 24 May 1996.