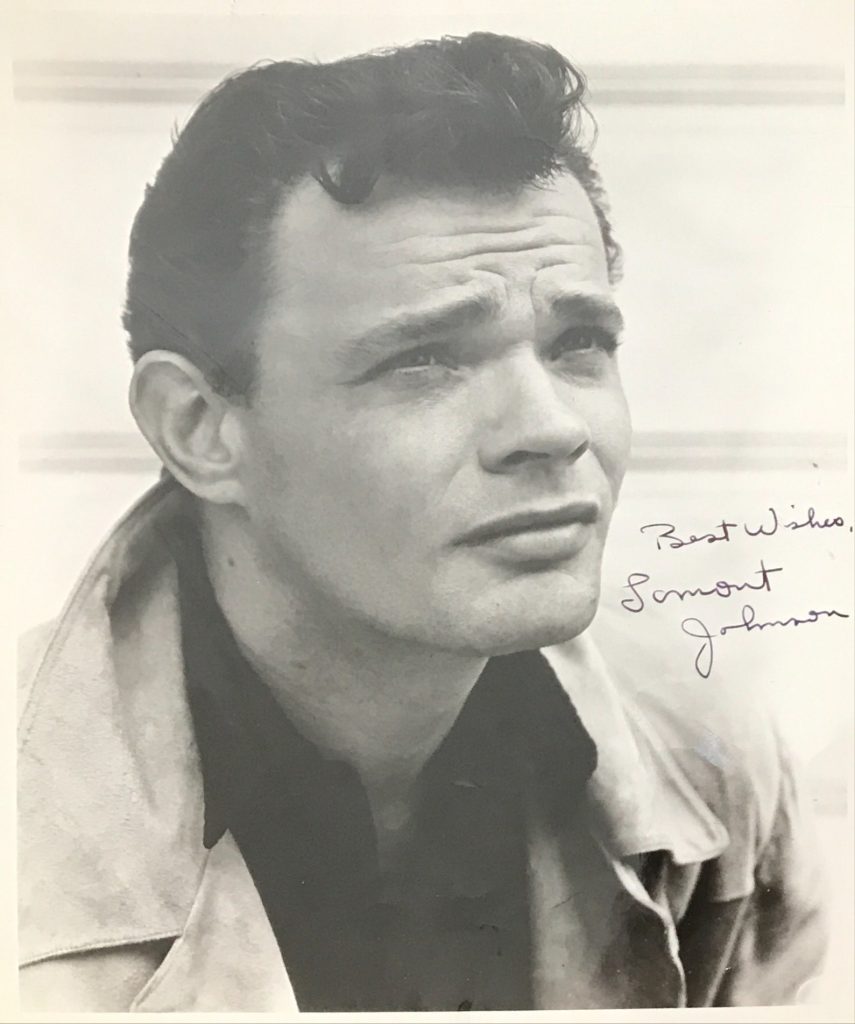 New York Times obituary from 2010:
Lamont Johnson, an Emmy-winning television director known for bringing an understated touch to delicate subjects, died on Sunday at his home in Monterey, Calif. He was 88.
The cause was heart failure, his son, Chris, said.
Mr. Johnson, the director of more than 150 television shows, miniseries and movies of the week, received 11 Emmy nominations during his 45-year directing career.
He won critical acclaim for "My Sweet Charlie" (1970), a look at tensions in interracial relationships; "That Certain Summer"(1972), one of television's first attempts to explore homosexuality;and "Crisis at Central High" (1981), about the civil rights movement.
His 1975 television movie, "Fear on Trial," examined the blacklisting of the 1950s, a subject with which Mr. Johnson identified, having once found himself on such a list.
One of Mr. Johnson's specialties was epic accounts of historical figures. In 1986 he won a directing Emmy for "Wallenberg: A Hero's Story" (1985), a miniseries about Raoul Wallenberg, the Swedish diplomat who saved the lives of approximately 100,000 Hungarian Jews during the Holocaust. Three years later he won another Emmy for "Gore Vidal's Lincoln," starring Sam Waterston, which examined the Civil War through Abraham Lincoln's eyes as he contended with generals who balked at going into battle and politicians who undermined him. 
"In most cases, I've chosen projects that have to do with an individual who has faced seemingly insuperable obstacles to deal with an extraordinary challenge," Mr. Johnson once said.
That could include Eddie Slovik, an Army private during World War II. Facing combat, he decided that he could not kill and became the only American soldier to be executed for desertion since the Civil War. Mr. Johnson's direction of "The Execution of Private Slovik" (1974) was nominated for an Emmy.
Lamont Johnson Jr. was born in Stockton, Calif., on Sept. 30, 1922, the only child of Lamont and Ruth Fairchild Johnson. While attending Pasadena City College he performed in radio dramas — one of his roles was the voice of Tarzan — while studying acting at the Pasadena Playhouse. A hip injury kept him from serving in the military during World War II, so he joined the U.S.O. While performing for the troops in Europe, he re-met Toni Merrill, a U.S.O. actress he had known in college. They married in 1945.
Mrs. Johnson died in 2009. Besides his son, Mr. Johnson is survived by a daughter, Carolyn Bueno; three grandchildren; and five great-grandchildren.
In 1955, Mr. Johnson, who had acted on stage and television for a decade, turned to directing. His first assignment: piece together a one-hour adaptation of "Wuthering Heights" for NBC's noontime "Matinee Theater" in just four days. It was the first of 78 live productions Mr. Johnson would direct for "Matinee Theater" in a little more than two years.
As television moved from live to taped productions, Mr. Johnson worked on shows that would become classics. He directed episodes of "Have Gun — Will Travel," "Peter Gunn," "The Twilight Zone," "Naked City" and "The Defenders." He also directed several theatrical films, including "The Last American Hero" (1973), in which Jeff Bridges played a bootlegger's son who rises to become a stock-car-racing champion.
In The New Yorker, Pauline Kael praised "The Last American Hero," writing that it would be simplistic to see it as only an action film. It "isn't about stock-car racing," she wrote, "any more than 'The Hustler' was only about shooting pool."
In 1990 Mr. Johnson directed a four-hour television miniseries, "Voices Within: The Lives of Truddi Chase," starring Shelley Long. The drama was based on the true story of a woman whose personality fractured into numerous identities because of vicious sexual abuse she suffered as a child.
"I find a great many things that never make it to the big screen because they're controversial wind up on television, and done with a considerable amount of daring," Mr. Johnson told The Miami Herald in 1992. "That seems surprising in a medium that's supposed to be timid or anxious."