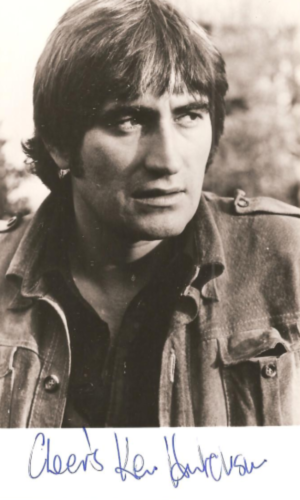 One of the most brilliant character actors of his generation, Hollywood's loss was British television's gain with Ken Hutchison. Born in Scotland, his handsome features and cheeky expression guaranteed him a career in character roles, but his dangerous streak led him early in his career into dark, villainous roles. He was cast by Sam Peckinpah as one of the sinister villagers of Straw Dogs (1971), raping Susan George and participating in the film's closing violent siege. Peckinpah took to the actor, and the pair indulged in their love of drinking throughout the shoot, often to the frustration of those around them. Hutchison was soon offered a role in the Robert Mitchum film The Wrath of God (1972) but this was his one and only shot at the big time. Quite what went wrong is open to debate. Some say he was wary of success and got cold feet. Whether that is true or not, what certainly didn't help was his unruly behaviour which made studio execs nervous of casting him again. He returned to Britain and continued his career as an anonymous but astounding character actor.

He appeared in two of John Mackenzie's Play For Today films based on Peter McDougall scripts. In Just Another Saturday (1975) he played the head thug of the Orange Lodge, and in Just a Boys' Game (1979) he played Dancer Dunnichy, an irresponsible rogue who lived for drinking and dodging responsibility, a character that seemed to echo his offscreen persona. Hutchison was a stalwart of British TV crime series at this time, appearing in series such as Shoestring (1979), Target (1977) and Jemima Shore Investigates (1983) as well as The Sweeney (1974). In fact he also played the lead villain in the movie Sweeney 2 (1978), but the script allowed him precious little opportunity to shown off his skills as an actor. In 1978 the BBC cast him as Heathcliff in a serialisation of Wuthering Heights (1978) and he brilliantly captured the rough magic of the character. In the 80s he was seen less, although he had a regular role as the boss in children's series Murphy's Mob (1982). Since then he has appeared inevitably in shows like The Bill (1984). His great strength is an incredible ability with accents, and super comic timing, but he is also excellent at conveying menace. A riveting screen presence, Hutchison is long overdue for recognition as a treasure for British drama, a talent which his own country has rarely recognised.
The Telegraph obituary in 2021:
Ken Hutchison, rugged character actor who was central to the shocking film Straw Dogs and played a string of roles on television – obituary
The hell-raising director of Straw Dogs, Sam Peckinpah, challenged Hutchison to a violent bout of Indian wrestling
ByTelegraph Obituaries7 October 2021 • 3:20pm
Ken Hutchison, who has died aged 72, was an actor best known for taking tough-guy roles on screen – and enjoying a hard-living, hard-drinking lifestyle off it.
He transferred those qualities to television most memorably when he played Dancer Dunnichy in Just a Boys' Game (1979), Peter McDougall's BBC Play for Today production set in the streets, pubs and snooker halls of the Clydeside port town of Greenock in the actor's native Scotland.
Alongside Frankie Miller and Gregor Fisher, Hutchison was the wisecracking one of a trio immersed in boozing, fighting and bunking off work amid despondency and despair.
"No matter what else I do, people always associate me with Dancer," he told The Herald in 1989. "It's frightening."
On the big screen, he played a pivotal role in reversing a landmark decision by the British Board of Film Censors when he appeared in Sam Peckinpah's Straw Dogs (1971) – which Peckinpah described as his "British Wild Bunch", and others have referred to as his "Cornish Western"; Hutchison was Norman, one of the menacing local builders making life difficult for a newly married couple – Dustin Hoffman's American academic and Susan George as his English wife – renting a West Country holiday cottage.
The BBFC awarded Straw Dogs an X certificate only after cuts were made to a rape scene in which Susan George's former boyfriend (Del Henney), inflicts a violent assault on her which after initial resistance appears to become consensual, after which she is raped again by Hutchison's character as the first rapist holds her down, her screams leaving audiences in no doubt that she is not giving her consent.
Most of the second rape sequence was cut, and it was only 31 years later that the film was given a certificate with the full scene reinstated (although, through a loophole, it had been available uncut on video for several years during the 1980s).
Advertisement
"The ambiguity of the first rape is given context by the second rape," declared the British Board of Film Classification in 2002, "which now makes it quite clear that sexual assault is not something that Amy [Susan George] ultimately welcomes."
Off-set, Hutchison found in Peckinpah a drinking partner to rival his own excesses, but the hell-raising director's challenge to take part in a bout of Indian wrestling one night ended with the actor's face bloodied and swollen after a kick in the head. "What the hell happened to you?" Peckinpah screamed at him the following morning on set, apparently oblivious to the incident. The director ended up being sent to a London clinic to "recuperate".
Hutchison also recalled Peckinpah's unorthodox brilliance as a director. "He would play with you just to create an atmosphere," he told the critic Mark Kermode in 2003. "At one point he said to me, 'That Del Henney thinks you're a s–t actor.' Of course you know it's a wind-up. He stirred us up to get a tension, which worked for the film."
It was Hutchison's own unruly behaviour that was blamed for ending his chances of a Hollywood career, which looked to be on the cards when he was cast as an Irish bootlegger alongside Robert Mitchum's unfrocked priest in Ralph Nelson's offbeat Western The Wrath of God (1972).
With some irony, in the wake of Straw Dogs, Hutchison's character rescues Paula Pritchett's mute American Indian from a gang rape. The actor found a lifelong friend in Mitchum but failed to endear himself to other cast members – or to Hollywood studio executives.
Dancing at a party one evening with Rita Hayworth, who was taking her last film role in The Wrath of God, he expressed surprise at her dancing skills. "Well, after all, I have danced in movies with Gene Kelly and Fred Astaire," she retorted.
Hutchison returned to Britain to face a future as a character actor. In 1975 he was perfectly cast in "Stay Lucky, Eh?", a particularly good episode of The Sweeney, almost unrecognisable in thick moustache and dark glasses, playing a crook relieving other robbers of £27,000 from their own job; co-starring as a suave gang boss was Peter Vaughan, who had played one of the sinister locals in Straw Dogs. Later Hutchison featured in the spin-off movie Sweeney 2 (1978), as the leader of a gang of armed robbers.
Unusually, the combination of Hutchison's hard-man reputation and a charm that often filtered through, led him to be cast as the brooding, tormented Heathcliff in the five-part 1978 BBC adaptation of Wuthering Heights.
Curiously, he also starred in the children's series Murphy's Mob (1982-85) as Mac Murphy, manager of a struggling football club setting up a supporters' club for juvenile fans.
Hutchison himself was football-mad, regularly playing in goal for Dennis Waterman's charity celebrity team – and breaking a leg in a 1983 game. Such was his friendship with the Sweeney star that he lent him his Scottish home when Waterman left his wife for the actress Rula Lenska, to help them to escape from the media glare.
The actor was born Aitken Hutchison in Leslie, Fife, on November 24 1948. Following a job as a road digger, he worked backstage at Nottingham's Theatre Royal, raising and lowering the sets as a fly operator.
His move to appear in front of audiences, at the neighbouring Playhouse, came in 1967 when he met the actor John Neville, its artistic director. "We both got drunk in the bar late one night," recalled Hutchison, "and he shouted, 'You think acting's easy. Well, try it!' "
He auditioned by reading from William Shakespeare's Love's Labour's Lost – the only play he knew – and became an assistant stage manager and actor, soon treading the boards.
Hutchison's London West End debut came as McKyle, a self-proclaimed "electric Messiah", in the company's production of The Ruling Class, Peter Barnes's award-winning satire on the aristocracy, at the Piccadilly Theatre in 1969.
Then, during a season with Laurence Olivier's National Theatre company at the Old Vic (1970), he had small roles in Oedipus Rex and The Taming of the Shrew.
Hutchison already had a string of television character roles behind him when he was cast as a band leader in a Glasgow Protestant Orange Order march in Just Another Saturday (1975) – which like Just a Boys' Game was a Play for Today production from writer Peter McDougall and director John Mackenzie.
He also played a womaniser in The Wild West Show (1975), Colin Welland's six-part series about a rugby league club, before switching to period drama for a run in the 1976 series of The Onedin Line as Matt Harvey, a young sea captain who romances the shipping line owner's volatile sister, Elizabeth (Jessica Benton).
Villain roles kept on coming, including a small-time crook on the run with his wife and daughter in Hideaway (1986), giving him, as The Stage remarked, "a fairly easy time … he is only mildly beaten up … he is run down by a car".
But Hutchison was on the other side of the law playing a police sergeant in the film epic Gandhi (1981), and a sinister superintendent on television in the second series (1990) of The Justice Game.
His last screen role, as a prison inmate making claims of brutality by wardens, was in The Bill in 1999.
Hutchison is survived by his two sons and two daughters.
Ken Hutchison, born November 24 1948, died August 9 2021