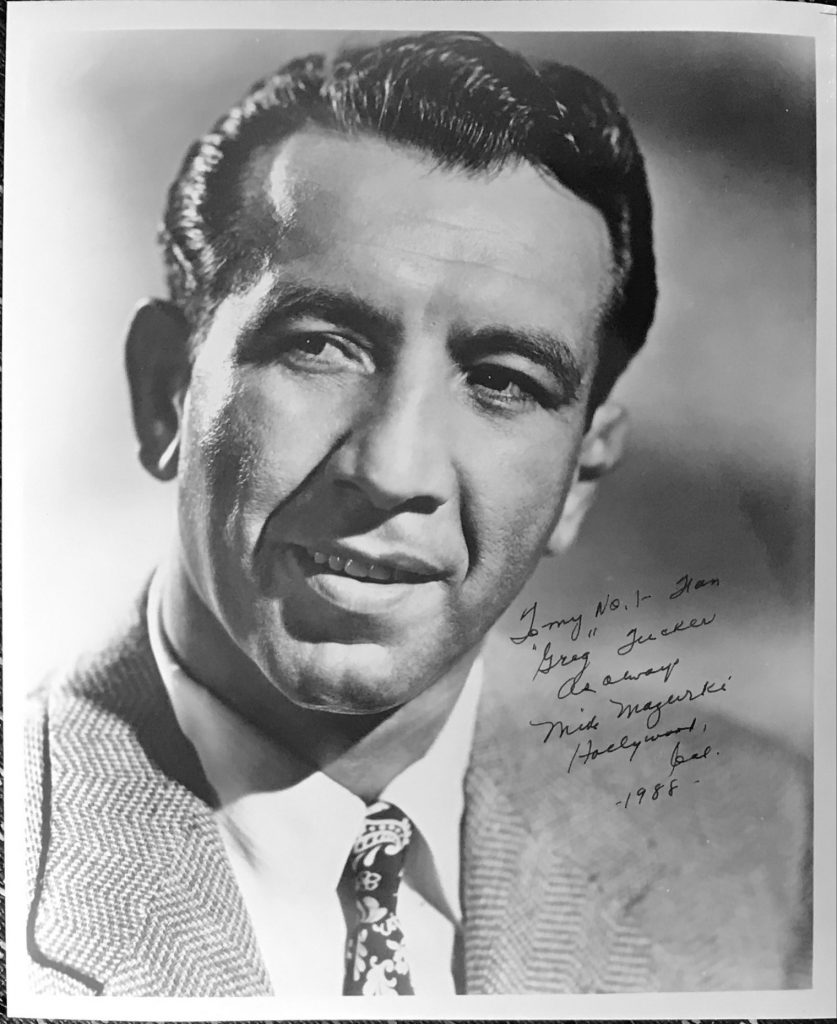 Mike Mazurki obituary in "The Los Angeles Times" in 1990.
Mike Mazurki, a former college football player and professional wrestler who portrayed menacing thugs or dull-witted giants in more than 80 adventure films and crime melodramas, died Sunday.
A spokesman for Glendale Adventist Medical Center said the 6-foot, 5-inch, 265-pound actor had several ailments and died of heart failure. His age was listed variously as 80 or 82.
He was born Michael Mazurkiewicz in the Soviet Ukraine and came to the United States as a boy. He played football for Manhattan College in the Bronx and turned to professional wrestling in the early 1930s. At that time wrestling was considered sport rather than staged drama.
Years ago Mazurki told The Times that Mae West, whose father was a fighter, had been his benefactor. She found odd jobs at the studios for the boxers and wrestlers in pre-war Los Angeles.
Another version has him being discovered during a match at the Olympic Auditorium in Los Angeles when a movie director thought "Iron Mike" would be a perfect Mongol type. By then he had been involved in hundreds of wrestling matches, and his mashed face and cauliflower ears belied a gentle nature and an intelligence that had earned a college degree.
A United Press International correspondent once described his battered face as "an eroded slag heap . . . traversed by gullies."
One of his most memorable performances, and the one for which he probably will be longest remembered, was in the 1945 film noir classic "Murder My Sweet." In it he portrays Moose Malloy, a sinister goon who has just been released from prison and hires detective Philip Marlowe (actor Dick Powell) to find his old girlfriend, Velma.
The picture, remade several times and also titled "Farewell My Lovely," has been praised over the years for its faithfulness to the Raymond Chandler mystery on which it was based. It also took director Edward Dmytryk–later to earn bittersweet fame as one of the Hollywood Ten during the McCarthy era–out of B films and made a dramatic star of Powell, formerly a song and dance man.
Mazurki's first featured role was in "The Shanghai Gesture," a 1941 shocker in which Mazurki was cast as a Russian coolie.
Some of the other major films in which he appeared included "Dick Tracy," 1945; "Some Like It Hot," 1959; "It's a Mad Mad Mad Mad World," 1963; and "Requiem for a Gunfighter," 1965.
Others were "Samson and Delilah," 1949; "The Adventures of Buyllwhip Griffin," 1967 and "The Man With Bogart's Face," 1980.
In a surprise piece of casting in 1976 he was given the lead role in a children-oriented nature adventure, "Challenge to Be Free."
He is survived by his wife, Sylvia, and two daughters from a previous marriage.