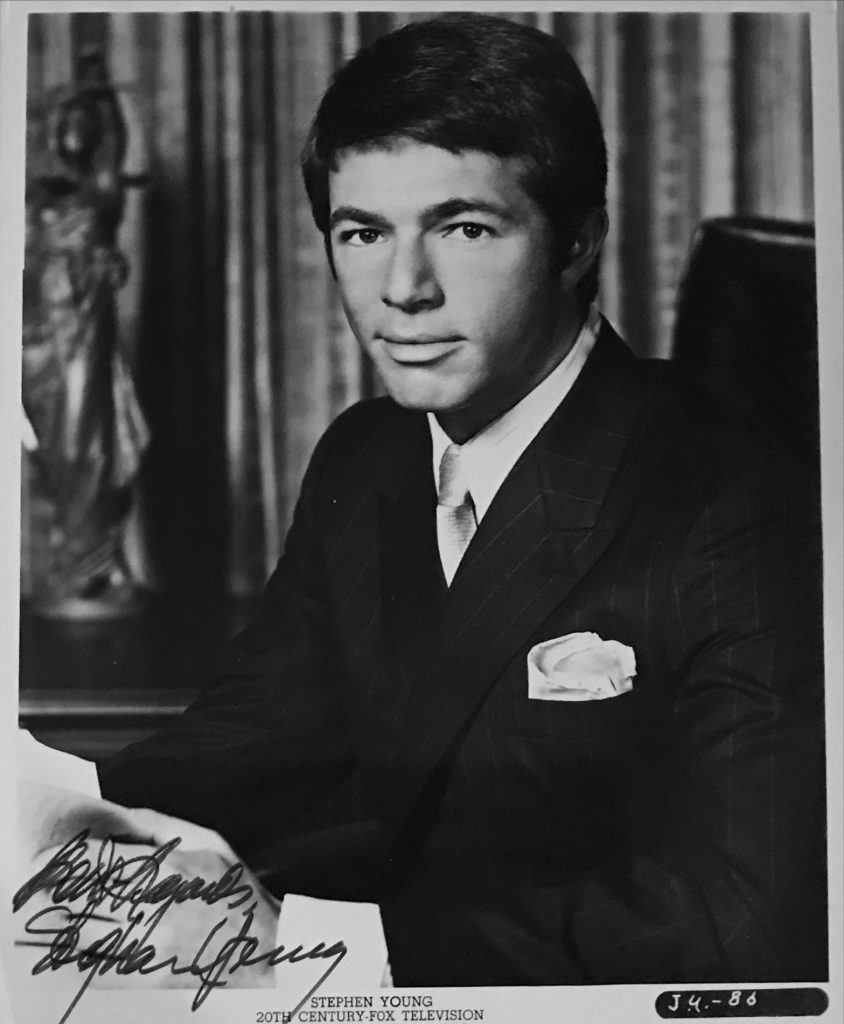 Stephen Young was born in Toronto in 1939. While travelling in Europe he obtained small parts in films such as "The Leopard", "Cleopatra" in 1963 and "The Fall of the Roman Empire". On returning to North America, he starred in the courtroom television drama "Judd for the Defense" with Carl Betz in 1967. He continues to act and recent work includes "The Rendering" in 2002 and "Charlie Bartlett" with Robert Downey Jnr in 2008.
Gary Brumburgh's entry:
Born Stephen Levy in Toronto, Canada, solid character actor Stephen Young is the son of a Toronto-based financier. Directly following high school, the naturally-gifted teen athlete signed on the dotted line for a career with the Cleveland Indians, but his professional bid ended before the first ball was even thrown when he seriously injured his knee playing ice hockey. He spent the next few years as a salesman, then wound up in radio and TV commercial production.
While traveling with a friend on a European excursion in the early 60s, he was given by chance a bit part in the monumental film Cleopatra (1963), then landed similar minor assignments in such other European-lensed epics as 55 Days at Peking (1963), The Leopard (1963) [The Leopard] and The Fall of the Roman Empire (1964). Upon returning to Toronto, Young decided to become a full-time actor, originally billing himself under his given name of Stephen Levy and appearing in leads on both daytime and primetime TV dramas. He headed the cast of one adventure series Seaway (1965) in which he played Nick King, part of a special police force that protected the St. Lawrence Seaway.
Moving to Hollywood in 1966, he subsequently scored as young, hot-shot legal eagle Ben Caldwell, top assistant to flamboyant, high-profile criminal attorney Clinton Judd (Emmy winner Carl Betz) in the contemporary series drama Judd for the Defense (1967). The series was abruptly canceled despite its critically-lauded marks after only two seasons. He progressed to high-ranking character actor mixing work in such prestigious 70s films as Patton (1970) and Soylent Green (1973) with more standard filming in Rage (1972) and Lifeguard (1976). A reliable player in mini-movies, he continued to return to his homeland from time to time where he was handed film leads in the lowbudget horror thrillers The Clown Murders (1976) and Deadline (1984). Into the millennium he continues to appear in sturdy, authoritarian roles as shown by his recent work in the crime dramas The Rendering (2002) and The Skulls II (2002) and his output on Canadian TV.
– IMDb Mini Biography By: Gary Brumburgh / gr-home@pacbell.net