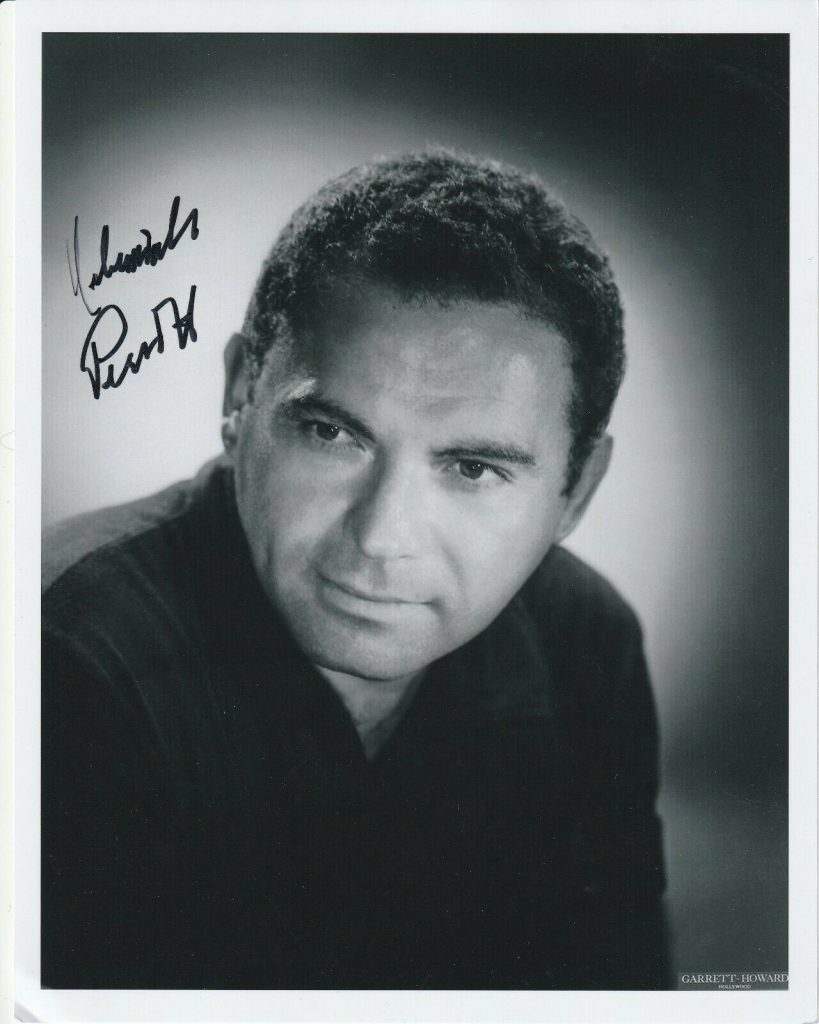 Nehemiah Persoff (born August 2, 1919) is an American retired actor and painter. He appeared in more than 200 television series, films and plays in his career spanning 52 years.
Born in Jerusalem, Persoff emigrated with his family to the United States in 1929 and graduated from the Hebrew Technical Institute in 1937. After serving in the United States Army during World War II, he worked as a subway electrician, maintaining signals while he began to pursue his acting career in the New York theater. In 1947, he was accepted into the Actors Studio, and was one of the 26 members of the beginners' class taught by Elia Kazan, along with James Whitmore and Julie Harris. He began his acting career in 1948.
One of his first notable roles was as the gangster boss "Little Bonaparte", a parody of Little Caesar in Billy Wilder's film classic Some Like It Hot (1959). He also appeared in supporting roles in films such as The Greatest Story Ever Told (1965) and The Comancheros(1961). In the film Yentl (1983), Persoff portrayed the father of Barbra Streisand's character. He appeared in the comedy film Twins (1988), and in the American Tail animated-film series as Papa Mousekewitz. His last movie was 4 Faces (1999), which was the last film to be directed by Ted Post.
His many television credits include Five Fingers ("The Moment of Truth"), The Big Valley ("Legend of a General", Parts I & II, episode), Alfred Hitchcock Presents ("Heart of Gold" episode), The Twilight Zone ("Judgment Night"), The Untouchables (six episodes, including three episodes as Jake "Greasy Thumb" Guzik, regarded by many as his signature role ), Naked City, Route 66 (two episodes), Seaway ("Last Voyage" episode, 1965), The Legend of Jesse James, Voyage to the Bottom of the Sea, Gunsmoke, Gilligan's Island (as the title character in the episode "The Little Dictator", the favorite episode of the show's creator Sherwood Schwartz, The Wild Wild West, The High Chaparral ("Fiesta" episode, 1970), Hawaii Five-O (seven episodes), Cannon, Ellery Queen ("The Adventure of the Pharaoh's Curse" episode), Mission: Impossible (three episodes), Adam-12 ("Vendetta" episode), The Mod Squad and Barney Miller (three episodes).
Persoff retired from acting in 1999 and pursued painting, specializing in watercolors. He currently lives with his wife, Thia, in Cambria, California. They have four children