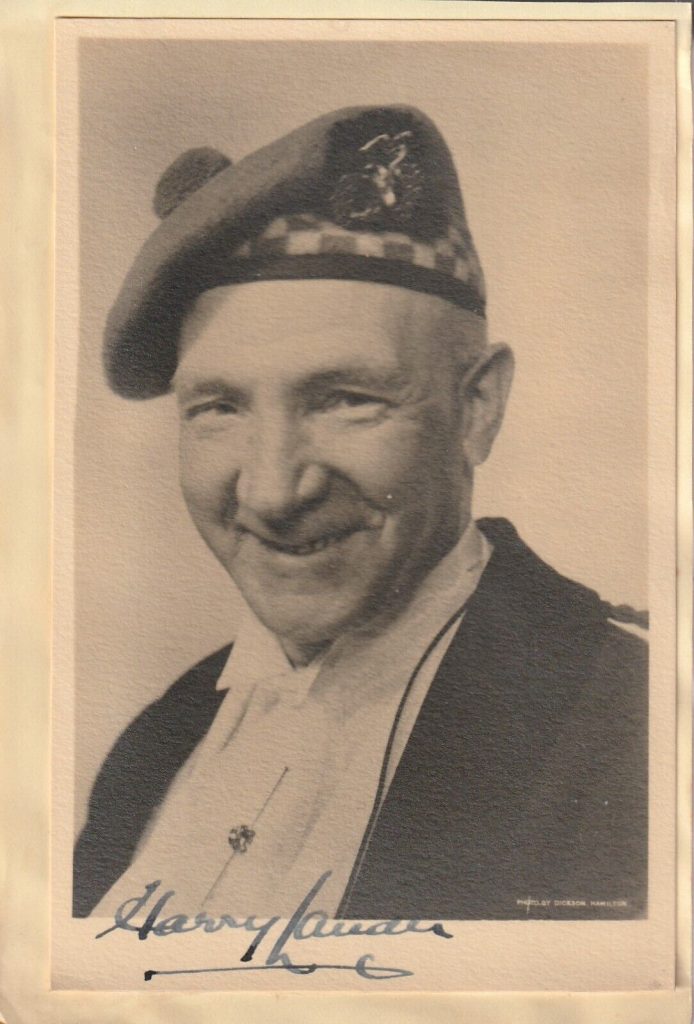 Sir Henry Lauder (; 4 August 1870 – 26 February 1950) was a Scottish singer and comedian popular in both music hall and vaudeville theatre traditions; he achieved international success.
He was described by Sir Winston Churchill as "Scotland's greatest ever ambassador", who "… by his inspiring songs and valiant life, rendered measureless service to the Scottish race and to the British Empire." He became a familiar worldwide figure promoting images like the kilt and the cromach (walking stick) to huge acclaim, especially in America. Among his most popular songs were "Roamin' in the Gloamin", "A Wee Deoch-an-Doris", "The End of the Road" and, a particularly big hit for him, "I Love a Lassie".
Lauder's understanding of life, its pathos and joys, earned him his popularity. Beniamino Gigli commended his singing voice and clarity. Lauder usually performed in full Highland regalia—kilt, sporran, tam o' shanter, and twisted walking stick, and sang Scottish-themed songs, including Roamin' in the Gloamin'.
By 1911 Lauder had become the highest-paid performer in the world, and was the first British artist to sell a million records; by 1928 he had sold double that. He raised vast amounts of money for the war effort during the First World War, for which he was knighted in 1919. He went into semi-retirement in the mid-1930s, but briefly emerged to entertain troops in the Second World War. By the late 1940s he was suffering from long periods of ill-health. He died in Scotland in 1950