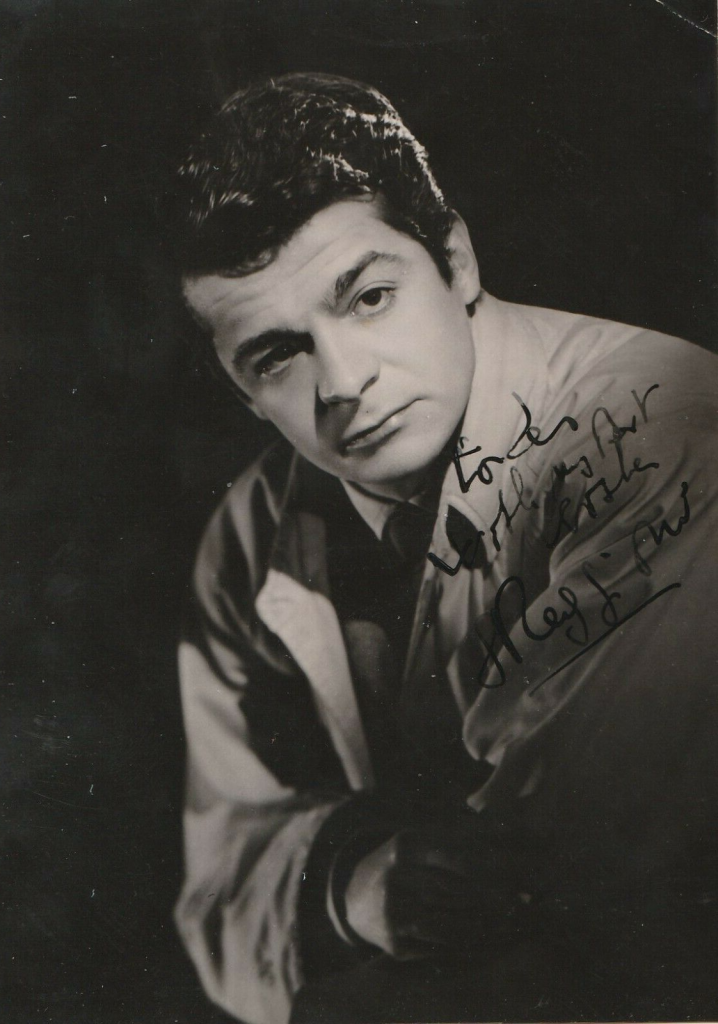 "Guardian" obituary of 2004.
Serge Reggiani, who has died aged 82, was one of the last monstres sacrés of the chanson and the cinema who emerged in France during the first half of the 20th century. Slightly built, with the face of a melancholy puppy, Reggiani was part of the heady leftwing postwar St Germain-des-Prés scene, which included Jean-Paul Sartre, Simone de Beauvoir, Yves Montand, Simone Signoret and Boris Vian.
Like Montand, Reggiani was born in Italy – in his case, Reggio Emilia – of anti-fascist parents who fled to France to escape Mussolini. (He became a French citizen only in 1948.) His father opened a barber's shop in Paris and, in order to please him, the young teenage Serge worked as an apprentice hairdresser. However, aged 17, in 1939, Reggiani entered the National Conservatory of Dramatic Arts, having had bit parts in a few films previously.
The first film in which he made an impression was Le Carrefour Des Enfants Perdus (Children Of Chaos, 1943) as a doomed hero. Also in the film was Janine Darcey, who became his first wife. They had two children, Stéphan and Carine. After the war, Reggiani began to have significant roles in major French films.
In Les Portes De La Nuit (1946), the last of the Marcel Carné-Jacques Prévert films and the final sigh of the sombre poetic-realist tradition, Reggiani played a snivelling Nazi collaborator, exposed by one of his victims. He was also nasty as Léon Lescaut, the blackmarketeer brother of the put-upon heroine in Manon (1949), Henri Clouzot's updating of the Abbé Prévost classic.
In the same year, Reggiani got a rare chance to play a romantic lead in André Cayatte's The Lovers Of Verona, in which he and 16-year-old Anouk Aimée portrayed two young people understudying the roles of Romeo and Juliet in a film being shot in Italy, who find their love, like that of the "star-crossed lovers", blighted by their families.
This led to Max Ophuls' La Ronde (1950), the merry-go-round of lovers that is set off when Reggiani, as a young soldier, is unwillingly seduced by a prostitute (Simone Signoret). A short while later the soldier has an amorous outing with a housemaid (Simone Simon).
But, again with Signoret, it was in Jacques Becker's Casque d'Or (1952) that Reggiani arrived at the peak of his cinematic career. As the taciturn and tender Manda, an honest carpenter drawn into a world of pimps, prostitutes and petty thieves because of his passion for gangster's moll Marie (Signoret), Reggiani, sporting a thick moustache, reaches tragic dimensions.
The remainder of his film work was rather perfunctory: he appeared in a number of international productions in smallish roles, such as in the British-made Secret People (1952) as a potential political assassin in London; as Lucien Bonaparte in Sacha Guitry's Napoléon (1955); and as local colour in two Hollywood films set in Paris, Act Of Love (1954), starring Kirk Douglas, and Paris Blues (1961) with Paul Newman.
Exceptions were two home-grown films directed by Jean-Pierre Melville, Le Doulos (1963) and The Army in the Shadows (1969). In the former, Reggiani was splendidly louche as a con artist, just out of jail, who tries to organise a safecracking job; in the latter a resistance fighter nicknamed, aptly, given his background, The Barber.
In the 1960s, now living in Mougins, in the south of France, with his second wife, Annie Noel, and their two daughters and son, he was asked to record some songs. In 1959, Reggiani had given a radio broadcast as a singer, but it was a one-off. Therefore he had no hesitation in accepting the offer, and delivered an album of songs based on Boris Vian texts. It was an immediate success on its release in 1965, and Reggiani thus embarked on a new career in his mid-forties. At the same time, he was appearing as the insane Nazi war criminal in Sartre's The Condemned Of Altona on stage.
This was followed by Reggiani's performances of songs at the famous Paris music hall, Bobino, while he recorded his next album of his own songs under the title of The Wolves Have Entered Paris (1968), an allusion to the Nazi occupation. During the events of that May, Reggiani's songs were acclaimed by the student protesters.
In 1975, Reggiani shared the stage at Bobino with his son Stéphan, now 27, who was at tempting to make a career as a singer himself. In the same year, Reggiani returned to the screen in Claude Lelouch's Le Chat Et Le Souris (Cat And Mouse) as Inspector Lechat, investigating the murder of Michelle Morgan's rich husband; and in Claude Sautet's buddy-buddy movie Vincent, François, Paul – Et Les Autres, he was wistfully poignant as a failed novelist.
In 1980, tragedy struck when Stéphan committed suicide. Reggiani then descended into some years of depression and alcohol. During this period, he turned to painting for solace, holding his first exhibition in 1989, the year he was named Chevalier de la Légion d'honneur. Having defeated his dependency on the bottle, Reggiani returned triumphantly to singing, both on stage and on disc.
In 1992, eight CDs of most of his poetic songs were released, as well as readings from his favourite writers, François Villon (whom he had played in a film of the same name in 1945), Victor Hugo, Arthur Rimbaud and Albert Camus.
Advertisement
He celebrated the year of his 70th birthday by performing every night for two weeks in front of 3,000 spectators at the Palais des Congrès. Two years later, despite health problems, he gave a recital of 33, mostly autobiographical, songs at the Olympia, also in Paris.
In his last years, Reggiani lent his seen-it-all, done-it-all presence to a few films, including Theo Angelopolous's metaphysical road movie, The Beekeeper (1986), and Kaurismaki's I Hired A Contract Killer (1990), as a cynical barman.
He leaves his wife and four surviving children, all of whom are connected with showbusiness.
· Serge Reggiani, actor and singer, born May 2 1922; died July 22 2004