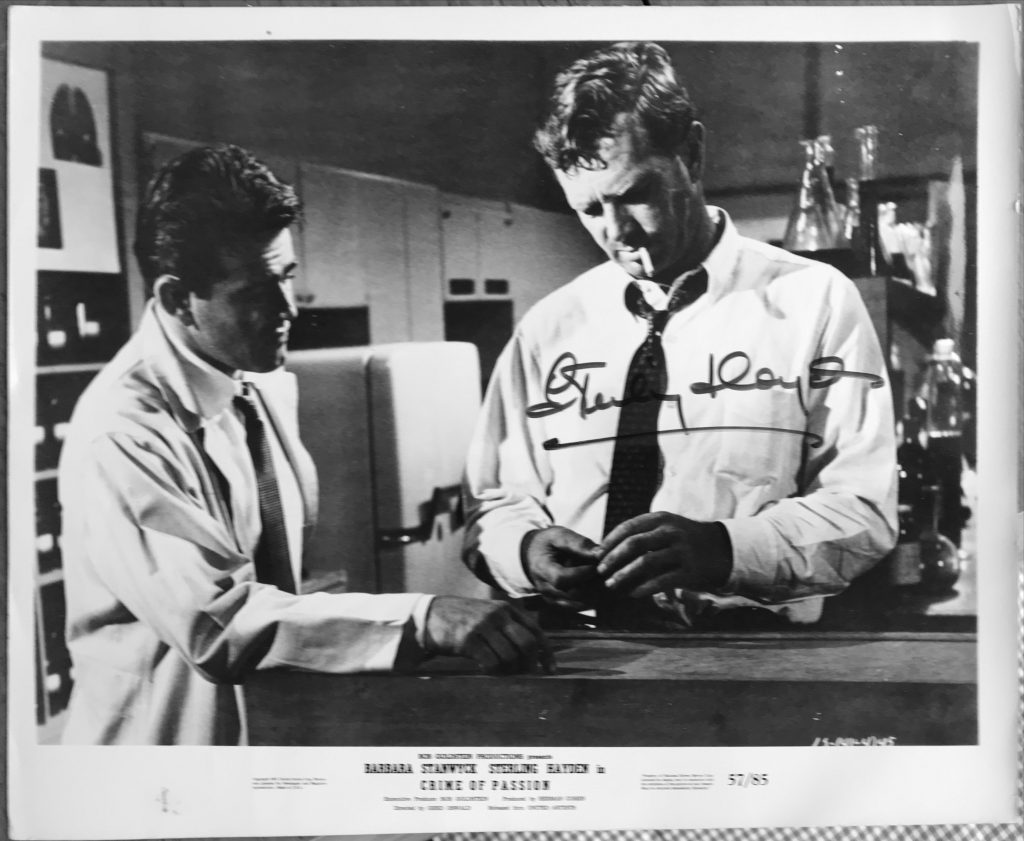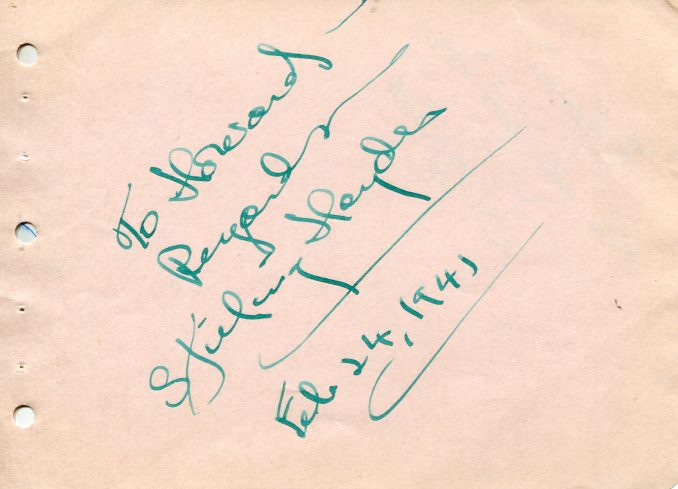 New York Times obituary:
Sterling Hayden, the handsome blond actor who played wholesome leading-man movie roles in the 1940's and 1950's and later weathered into a rough-hewn solid character actor in films such as "Dr. Strangelove" and "The Godfather," died yesterday at his home in Sausalito, Calif.
Mr. Hayden, who was 70 years old and also had a home in Wilton, Conn., had been suffering from prostate cancer for more than two years. He made more than 50 movies, beginning with "Virginia" in 1941, but his abiding love was the sea. He owned a schooner in California and a 100-foot, Netherlands-based canal barge he used all over Europe.
The strapping, 6-foot-5-inch Mr. Hayden, who made a notable impression with his acting in John Huston's "Asphalt Jungle" (1950), in which he appeared as a doomed petty hoodlum, found it difficult to subjugate his love for the sea to his need to make a living as an actor.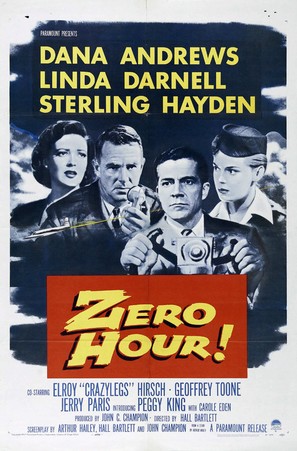 In 1959, in defiance of a court order obtained by his second wife, the former Betty Ann DeNoon, from whom he was divorced, Mr. Hayden got their four children aboard his schooner, the Wanderer, and took them on a prolonged South Seas journey. A Book About the Sea
He wrote of his obsessive fascination with the sea in a 1963 autobiography, "Wanderer," in which he also said he would never be able to erase the guilt he felt over his testimony, in 1951, before the House Committee on Un-American Activities.
Mr. Hayden had admitted past membership in the Communist Party and named several of his Hollywood acquaintances as fellow travelers. He was praised by the committee as "an intensely loyal citizen," and thus avoided being blacklisted in Hollywood.
In 1970 his 700-page epic novel of the sea, "Voyage," was a main selection of the Book-of-the-Month Club.
In the 1980's Mr. Hayden appeared in a documentary, "Pharos of Chaos," filmed aboard his barge in Europe, and seemed to be in an alcoholic stupor much of the time, supplementing his wine intake with hashish. On camera he said: "What confuses me is I ain't all that unhappy. So why do I drink, I don't know."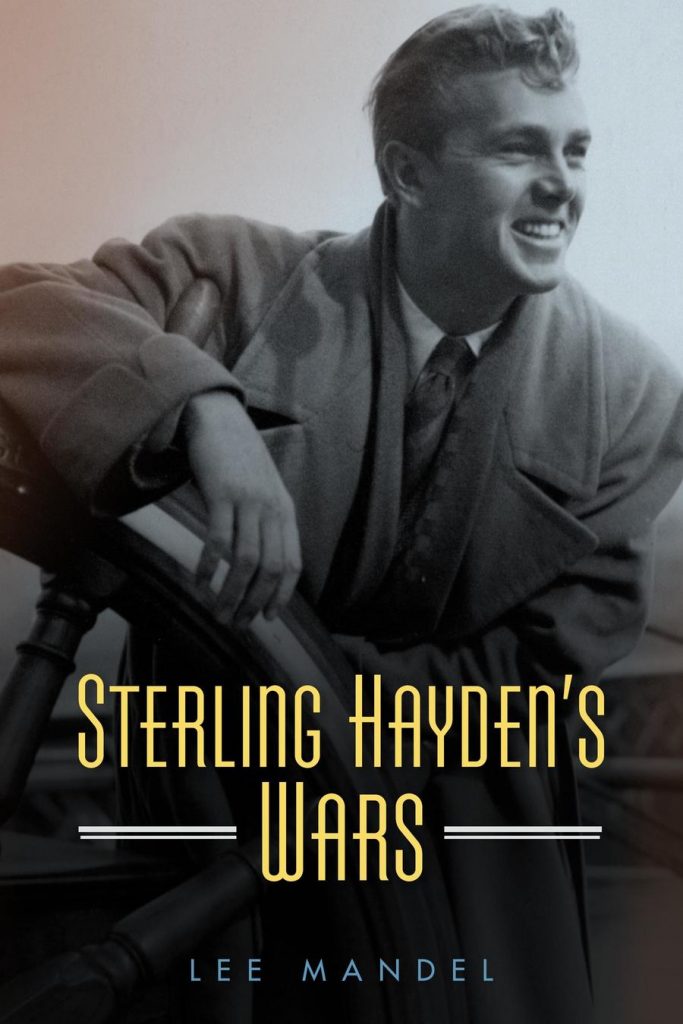 In 1981, in Brampton, Ontario, a judge dropped charges of hashish possession against Mr. Hayden after his attorney told the court the actor was using it to combat his alcoholism. A High-School Dropout
Mr. Hayden was named Sterling Relyea Walter when he was born in Montclair, N.J., on March 26, 1916. He dropped out of high school at the age of 16 and hired on as mate on a schooner. He was a ship's captain at 22, and in need of cash to buy his own boat, established himself as a model in New York.
Paramount Pictures signed the strikingly handsome and virile young man to a contract in 1940, puffing the newcomer as "The Beautiful Blond Viking God" and "The Most Beautiful Man in the Movies." He winced, "but the money was good," he said. More publicity poured upon him after his second movie, "Bahama Passage," when he married Madeleine Carroll, a popular actress. They saw little of each other, however, since Mr. Hayden was serving in the Marine Corps, and they were divorced after four years.
During World War II, Mr. Hayden served with the Office of Strategic Services in Yugoslavia, Italy and Germany, and won a Silver Star.
After a few unmemorable postwar roles at Paramount, Mr. Hayden scored critically in 1950 in "The Asphalt Jungle," but his evident talent was tapped only rarely in the years to come. He gave commanding performances in Stanley Kubrick's "The Killing" and as the crazed Air Force general who sets off a nuclear Armageddon in Mr. Kubrick's "Dr. Strangelove" (1964). 'An Imposing John Brown'
Mr. Hayden was also praised for his vivid, if brief, performance as a corrupt police captain in Francis Ford Coppola's "Godfather" (1972). And, reviewing the television Civil War mini-series "The Blue and the Gray" in 1982, John J. O'Connor wrote in The New York Times: "Mr. Hayden makes an imposing John Brown, capturing the passion of a fanatic and the searing insight of a prophet. His scenes carry a special stamp of authenticity."
Mr. Hayden is survived by his third wife, the former Catherine Devine McConnell, whom he married in 1960; their sons, Andrew and David, and a stepson, Scott; his four children from his marriage to Betty Ann DeNoon -Christian, Dana and Matthew, and Gretchen Ruckert – and 11 grandchildren