Belfast Telegraph Obituary in 2012.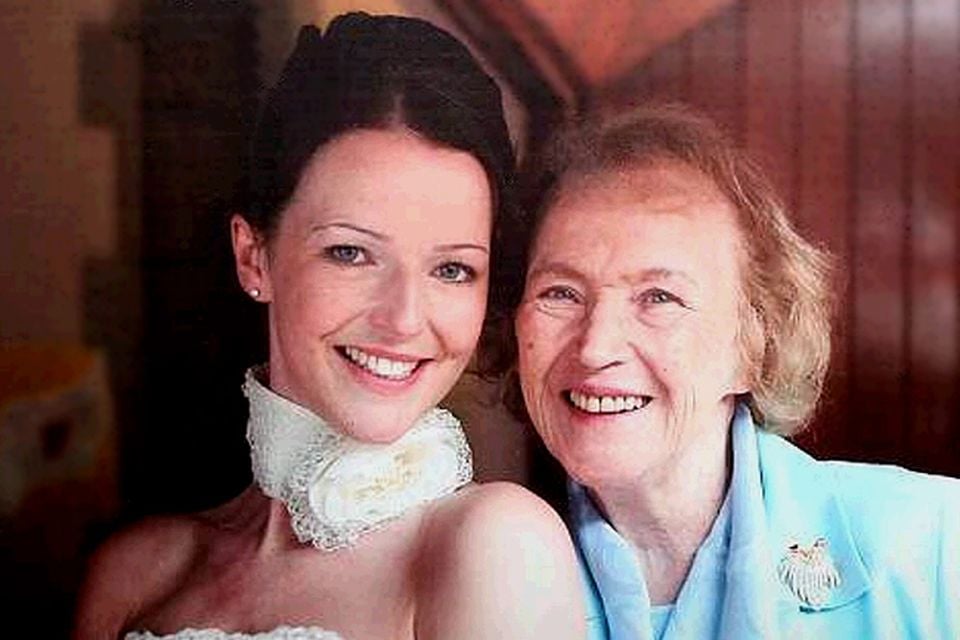 By Amanda Poole
Tue 10 Jan 2012 at 02:09
After a glittering music career spanning six decades, Ireland's first truly international singing star Bridie Gallagher died peacefully in a Belfast hospital surrounded by her family.
Bridie, from Creeslough in Co Donegal, moved to south Belfast in 1949 just before she shot to fame with her recording of A Mother's Love's A Blessing.
Known as 'the Girl from Donegal', her moving Irish ballads helped pave the way for future singing talent to shine on an international stage.
To this day Bridie holds the record for the largest number of people in attendance at the Royal Albert Hall in London. She also gave sell-out performances in New York's Carnegie Hall and Sydney Opera House.
Bridie's son Jim Livingstone (59) told the Belfast Telegraph his mother suffered a fractured hip after a fall before Christmas
Yesterday morning, with her family by her side, she slipped away peacefully aged 87 at the Royal Victoria Hospital after succumbing to pneumonia.
A half-hour documentary about Bridie's remarkable career, presented by her granddaughter Teresa Livingstone, aired on December 18 on UTV, something her son said was the "perfect tribute" to his mother.
Mr Livingstone said: "Bridie had a quiet, peaceful death with her family around her.
"I am so pleased she was able to watch the documentary about her life before she passed.
"She watched it four times and was absolutely thrilled with it. My mother was particularly proud of Teresa presenting it, and had actually commented to me that she was pleased it ran before she died.
"In terms of timing, it couldn't have been shown at a more perfect time or been a more fitting tribute."
Fans of Bridie are now calling for UTV to repeat the documentary – Bridie: The Girl From Donegal – that features previously unseen footage and examines her life touring America, Australia, Canada, and Europe.
Jim said his family will remember Bridie in two ways. First as the loving matriarch to all of them, and as the immaculately dressed singing superstar to others.
"We've lost two people today," he said.
"Bridie Livingstone, a great mother, grandmother, aunt, mother-in-law and more. She was such a warm person, great fun and lots of craic. Then there's Bridie Gallagher the emigrants' singer.
"My girls weren't born when Bridie was in her heyday and they didn't realise quite how famous she was until the documentary was put together.
"They have been bursting with pride since then."
The Boys From The County Armagh singer, who never officially retired, gave her last performance in Letterkenny in 2000, but will be best remembered as a singing sensation who brought a "piece of home" to Irish people who had emigrated to America and beyond.
Said Mr Livingstone: "She meant so much to Irish emmigrants all over the world. She brought her kind of songs to those in America and Australia before anyone else did.
"I have been touched by how fondly people remember her and how the music she made meant so much to people living away from home."
Bridie's granddaughter Teresa (32) is the musical director at the Something Special charity based in Eglinton.
After travelling to New York to speak to fans of her grandmother's music, she was blown away by how fondly people spoke of Bridie and the comfort her music brought them when they were so far away.
She said last night: "I'm incredibly sad, but incredibly proud. I have been listening to the radio and the tributes coming in have been a real comfort to me and the family."
Records from her long and varied career continue to sell all over the world.
"We were going through recent royalty returns and noticed she had just sold six records in Vietnam," Jim said. "She got a tremendous laugh out of that."
Huge crowds are expected at her funeral at St Brigid's Catholic Church on Derryvolgie Avenue in south Belfast tomorrow at 9.30am, before burial in her native Creeslough.
Global trailblazer beloved of Ireland's emigrants
OBITUARY BY EDDIE McILWAINE
The ballad A Mother's Love's a Blessing will always be associated with singing legend Bridie Gallagher, who has died at the age of 87.
She took it into the charts and performed it at venues around the world.
It was a composition 'the Girl from Donegal', as she has always been known, was sometimes reluctant to sing.
Her 21-year-old son Peter was killed in a road crash in 1976, and Bridie, a native of Creeslough, felt the grief every time she recalled the emotive words that deal with the feelings of a mum for her offspring.
Her other son Jim was always on hand to help Bridie continue with her career on the boards at a time when she considered an early retirement because of the tragedy.
Tribute was paid to the veteran singer in a UTV documentary aired only a few weeks ago.
During her long career she became a favourite touring America, Canada, Europe and Australia.
Marie Cunningham, the pianist who often accompanied Bridie during her performances, said: "She never failed to win a standing ovation at concert halls – Bridie definitely had star quality and was a pleasure to work with."
It was A Mother's Love's A Blessing that shot Bridie to fame in 1956 – 20 years before Peter's fatal accident.
After his death the ballad took on a special meaning for the singer, who at one time had seriously considered quitting.
"I kept on singing, however, because that is what my son would have wanted me to do," she said.
"And my other son Jim has been a tremendous support down the years."
Her grandaughter Teresa Livingstone, a music teacher, said: "The most significant part of my journey through my grandmother's time was meeting with her fans in New York, who still talk about her 50 years after seeing her on stage."
Her son Jim Livingstone added: "Mum had a special place in the hearts of Irish emigrants around the world.
"She paved the way for a generation of Irish singers to appear on the international stage and she brought a touch of magic and glamour to Irish show business. And she carried on bravely after the terrible shock of Peter's death