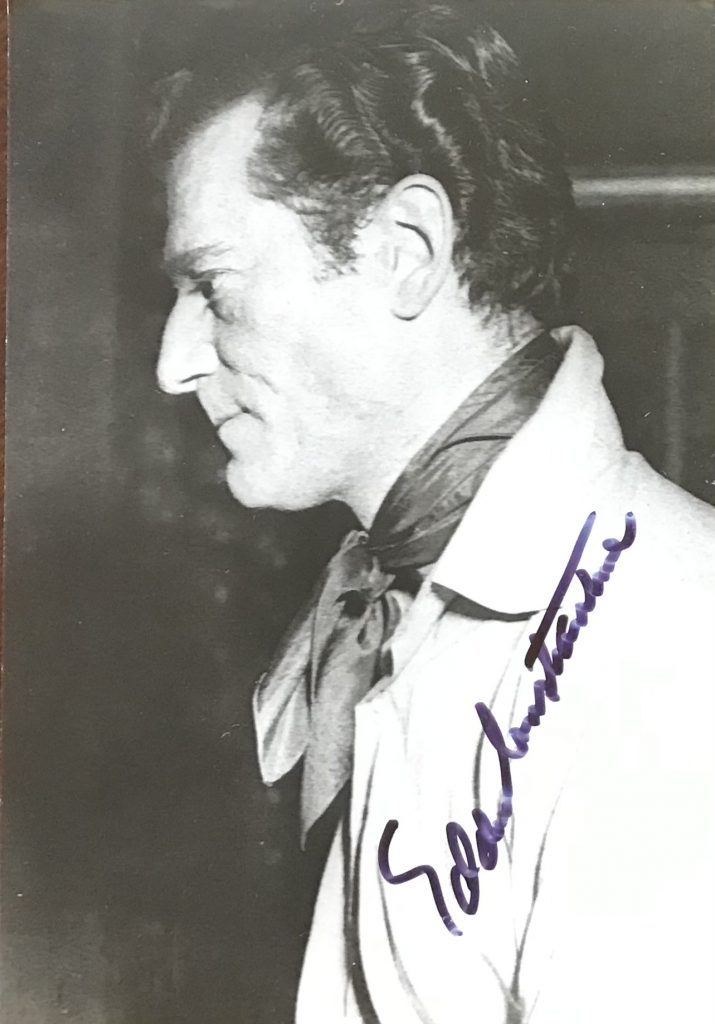 The Independent obituary in 1993:
Eddie Constantine, actor, singer, writer, born Los Angeles 29 October 1917, died Wiesbaden 25 February 1993.
EDDIE CONSTANTINE is remembered in Britain for only one movie: Jean-Luc Godard's Alphaville (1965), as the lone, stoic, mackintoshed and trilbied figure confronting the rigours and dangers of this future metropolis. The film's subtitle was 'Une etrange aventure de Lemmy Caution', which today needs some explanation, although Lemmy was an invention of a British writer, Peter Cheyney.
Constantine was the only American to become a big French movie star – if you except Josephine Baker, who owed her movie career to her success on the stages of Paris. He was in the chorus at Radio City Music Hall when his wife, Helene Mussel, accepted an invitation to join the Ballets de Monte Carlo. He accompanied her to France, where he met Edith Piaf, who encouraged his career as a night-club singer. In 1953 he was offered his first movie role, and within a couple of years he had overtaken Jean Gabin as France's most popular male movie star. Like Gabin (at this time) he didn't need more than a couple of expressions to express his heroism. It was the sort of hybrid coming-together which the French commercial cinema could understand and exploit: a series of pulp thrillers penned by a Briton, about a terminally hard-drinking, skirt-chasing private eye, Lemmy, who always looked tired.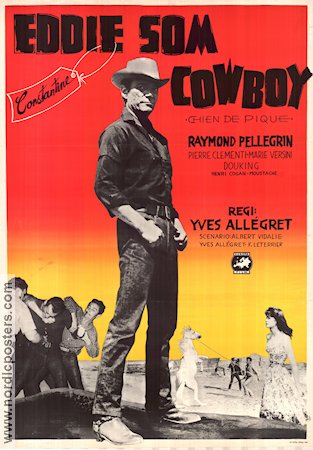 Constantine didn't bring much baggage to the role and he didn't need to: he had noted the large effects that Gabin could get from minimal acting and he had studied his Bogart. But whatever their pedigree – Cheyney's novels had sold like hot cakes in Britain a decade earlier, but he was now somewhat passe, and Americans had never been fooled by the American settings – there was virtually no export market for these films. He was therefore of no box-office value when he came to Britain in 1959 to appear in two indifferent action adventures, Passport to Shame, a prostitute drama with Diana Dors, in which he was a London cabbie, and SOS Pacific, in which he was an American smuggler. He returned to Britain in 1980 to play a Mafia boss in The Long Good Friday, which starred Bob Hoskins.
By this time his days as a star were long over. It is not an industry that allows you a long life if you choose B-movie scripts and play them with a distinct lack of enthusiasm. And yet in 1962 the nouvelle vague directors were assembled to make Les Sept Peches Capitaux ('The Seven Deadly Sins') in a deliberate riposte to their predecessors, who had celebrated the same sins 10 years earlier in a movie of the same name. Godard directed the episode 'Sloth', with Constantine doing a deliberate parody of his screen persona. And doing it with a wit and charm he had never shown before.
Godard brought out these qualities from time to time in Alphaville and we are left to wonder what Constantine might have done if he had taken himself more seriously