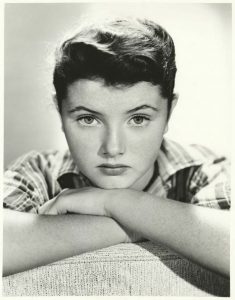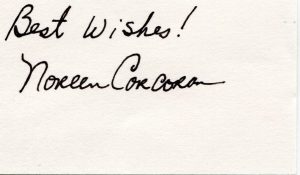 Noreen Corcoran was born on October 20 1943 in Quincy, Massachusetts to William Corcoran Snr and Kathleen. After the Second World War, her family moved to California, where her father became a maintenance manager at the MGM studios in Culver City. Noreen Corcoran and her siblings made frequent visits to their father at the studios. They were subsequently enrolled in dance classes, had elocution lessons and studied drama. Her younger brother, Kevin Corcoran, was another child actor, noted for his parts in Old Yeller (1957) and several Disney television series. Noreen Corcoran was in demand as a young actress. She made her big screen debut in the western Apache Drums (1951) and went on to play many bit parts in mainstream features. These included uncredited appearances opposite Spencer Tracy and Gene Tierney in Plymouth Adventure (1952), with Danny Kaye in the family musical Hans Christian Andersen (1952) and Richard Burton in The Robe (1953). After completing Band of Angels (1957), a Clark Gable melodrama set during the American Civil War, Noreen Corcoran went to CBS for a guest appearance on the series Circus Boy, starring Micky Dolenz (who went on to be a singer and drummer with the Monkees). While there she was cast as Kelly Gregg. "The cast loved the crew, and the crew loved the cast," she recalled of her time on Bachelor Father. "Sounds saccharine-sweet, but true. There wasn't anything else like it." During the 1960s she enrolled at the California State University but did not graduate. Instead she was crowned a "Hollywood Debutante Star of 1962" in a publicity drive to turn her into a film star. "They tried to turn me into a sex kitten," observed Noreen Corcoran.
In 1963 she had a modest success in the charts with the single Love Kitten, an up-tempo number in the style of Buddy Holly. Capitalising on her popularity on television and her good looks, she was cast in the romance Gidget Goes to Rome (1963). She then won a lead role, also on the big screen, in The Girls on the Beach (1965), a comedy about a group of college girls who host a beauty contest, in which she co-starred with Lana Wood and with the Beach Boys.
She continued to appear on television, taking roles in Ben Casey, Gunsmoke, Dr Kildare, Going My Way (with Gene Kelly) and, in her last screen appearance, in the The Big Valley, with Lee Majors and Linda Evans. In 1965, Noreen Corcoran retired from acting to pursue a career, behind the scenes, in theatre and dance. During the late-1960s and early 1970s she worked for the Lewitzky Dance Company, the troupe set up by the choreographer Bella Lewitzky. Noreen Corcoran retired in 2004.
She never married. Kevin Corcoran died last year